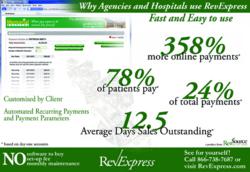 "We are proud to build upon our partnership with Centron Data Services, Inc. to jointly bring state-of-the-art online solutions to their customers."
Muncie, IN (PRWEB) March 21, 2012
RevSource Solutions, a leader in online personalized payment solutions for the collection industry and healthcare, recently announced a partnership with Centron Data Services, Inc., a leader in statement and letter printing and mailing for over 3 decades. RevSource Solutions offers RevExpress online payments for early out self-pay and collections. RevExpress' personalized websites automate online payments to increase and accelerate revenue while increasing staff efficiencies. RevExpress provides custom branded websites with single, multiple or recurring payment parameters per client. Centron provides processing support services to their customers who are using RevExpress for online payments.
"We are excited to partner with Centron Data Services, Inc., with their proven solutions, reputation and trusted relationships with their customers," said Shawn Kerrigan, president at RevExpress. "We are proud to build upon our partnership with Centron Data Services, Inc. to jointly bring state-of-the-art online solutions to their customers."
To learn how you can increase and accelerate revenue, visit http://www.RevSourceSolutions.com or email info(at)revsourcesolutions(dot)com.
About RevSource Solutions:
RevSource Solutions, LLC headquartered in Muncie, Indiana has developed innovative and efficient receivables management and revenue cycle enhancement solutions. Clients representing market sectors include Healthcare, Collection Agencies, Law Firms, Charitable Organizations, and Membership Organizations. RevExpress utilizes secure, personalized websites to increase and accelerate revenue. The Company facilitates the management of payments, processing, remittance, e-mail confirmations, demographic data and insurance updates all in a single online solution.
About Centron Data Services, Inc.:
Centron Data Services, Inc. has been providing printing and mailing of document solutions for over 30 years. During that time they have developed industry expertise and combined that with the latest technology in order to assist their customers in the management of their document processing needs. The company is involved nationally in several vertical markets and has been focused in the Healthcare space for the past 18 years. For the Healthcare market segment, they provide printing and mailing of billing statements, pre-collection notices, HCFA paper claims and marketing materials.
Centron Data Services, Inc. understands the business needs for lower expenses, improved cash flow, and enhanced staff productivity. They are also keenly aware of the need for customer communication that is clear, concise, and accurate and is delivered on-time to the right people. Outsourcing statement processing to Centron saves both time and money.
RevSource Solutions, RevExpress and respective logos are trademarks of RevSource Solutions, LLC. Other company and product names may be trademarks of their respective owners.
Media Contact:
Paul G. Smith
765/744-3443
pauls(at)RevSourceSolutions(dot)com
# # #