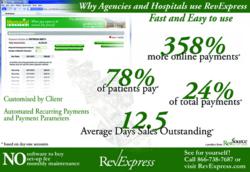 In 30 days using RevExpress, we have increased revenue by over 600 percent on a high volume/low recovery client.
Muncie, IN (PRWEB) October 13, 2011
RevSource Solutions, a leading provider of personalized online payment solutions through RevExpress, today announced that Carter-Young, a new collection agency client, has increased revenue over 600% on business using RevExpress. "RevExpress is able to increase revenue on early out self-pay and bad debt through its combination of intrigue, ease of use, and personalization," said Shawn Kerrigan, president, RevExpress, LLC.
"In 30 days using RevExpress, we have increased revenue by over 600 percent on a high volume/low recovery client. Because of the results realized, we will be adding RevExpress to our other accounts." Said John Younggreen, vice president, Carter-Young.
RevExpress is the fast and easy to use online payment solution. It is pre-populated with the client's information. It is customizable so that every customer's client can carry its own brand, as if you were on that client's website. It automates your payments and improves your payment processing efficiency, all in one tidy, personalized package, while being hosted by RevExpress. RevExpress excels for early out, self-pay, collections, healthcare, utilities and other markets.
"RevSource Solutions developed RevExpress to make patient-friendly and consumer-friendly payments. RevExpress excels in accelerating, increasing, and simplifying online payments for anyone sending out statements or invoices." said Paul Smith, president, RevSource Solutions, LLC.
To learn how you can increase and accelerate revenue, visit http://www.RevSourceSolutions.com or email info@revsourcesolutions.com.
About Carter Young:
A Georgia based collection agency, established in 2001 servicing clients throughout the United States. Carter-Young provides the highest quality, most innovative outsourcing solutions to clients across a broad spectrum of market sectors, including the multi-family/student/military housing, healthcare, financial services, utility, and telecommunications sectors.
About RevSource Solutions:
RevSource Solutions, LLC headquartered in Muncie, Indiana has developed innovative and efficient receivables management and revenue cycle enhancement solutions. RevExpress utilizes secure, personalized websites to increase and accelerate revenue. The Company facilitates the management of payments, processing, remittance, e-mail confirmations, demographic data and insurance updates all in a single online solution. Clients representing market sectors include Healthcare, Collection Agencies, Law Firms, Charitable Organizations, and Membership Organizations.
RevSource Solutions, RevExpress and respective logo are trademarks of RevSource Solutions, LLC. Other company and product names may be trademarks of their respective owners.
Media Contact:
Paul G. Smith
765/744-3443
pauls(at)RevSourceSolutions(dot)com
###