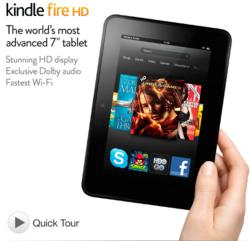 Kindle Fire HD claims to have the upper hand over competitor iPad mini.
(PRWEB) January 08, 2013
Smaller is better, right? With advances in electronic tablet technology, the whole panoply of apps and features endemic to the "original" sized tablets (like the iPad, for instance) is available now in a mere 7" screen. Two juggernauts compete for brand space in this niche, and the Kindle Fire HD claims to have the upper hand over competitor iPad mini.
Kindle Fire HD features 30% more pixels and 33% more pixels-per-inch than iPad mini, which means clearer, sharper images. With Kindle Fire HD, you can watch HD movies and TV—you can't on iPad mini because it's not an HD device. And because low-quality sound can ruin your HD entertainment experience, Kindle Fire HD features dual stereo speakers and Dolby Digital Plus. Additionally, Kindle Fire HD offers fast Wi-Fi with dual band, dual antennas + MIMO. With all this, Kindle Fire HD is still $130 less than iPad mini.
These are the features that consumers look for, predominantly - clarity, sound, function, and price (not necessarily in that order). WiFi speed cannot be underestimated, especially for the user who plans to download lots of applications, movies, music, and other media. Kindle Fire HD loves to profile its dual band, dual antennas when boasting of superior WiFi speed.
Kindle Fire HD lowest prices are usually at Amazon.com, or click HERE for the review and full Kindle v iPad comparison.
Reviews-Domain.com is a broad-sweeping review site, where author, editor, and person of many interests John Taggart shines the limelight on products of every persuasion. John has always been a bit of a Renaissance Man and seems to have a knack for nuance, so we suggest you tune in when he profiles a product for review!