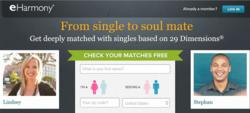 It's no scam and no waste of money. It's real people looking for real relationships right now.
Portland, Oregon (PRWEB) January 05, 2013
A large online dating review site has posted a 5 star review for eHarmony because of its superior matchmaking, ease of navigation, and variety of features.
The reviews of eHarmony on the site say that eHarmony is best for people looking for long-term, marriage-type relationships.
"It's no scam and no waste of money," the reviewers say. "It's real people looking for real relationships right now."
eHarmony matchmaking is based on a personality profile that members fill out upon signing up for the site. The review says that the test is "a bit monotonous", but that it ends up providing members with great matches because of its comprehensive nature.
The reviewers say that immediately after filling out the personality profile (compatibility test) members are taken to a page where they can view their matches. "This is great," they say, "because the whole point of joining the site is to find someone to have a relationship with. So sending members directly to their matches is immediately satisfying."
"Reading profiles of your matches is simple," the review says, "because there is not a ton of information shown... There is a nice section called 'Something to Talk About' which highlights specific similarities that members have with their matches to make striking up a conversation easier."
Another feature discussed by the review is the Icebreakers feature. It provides template-type messages that members can send to matches to let them know they saw their profile and are interested in them. These Icebreakers include messages like, "Your profile made me smile!" and "Just wanted to say hi."
An advanced feature discussed in the review is part of the Total Connect package (a more expensive membership) provided by eHarmony called Secure Call which lets you set up a telephone call with one of your matches without having to give them your phone number. It helps members maintain some privacy while still pursuing their interest in someone on the site.
The only cons that the review mentions are the price of the site, and the length of time it takes to fill out the profile. The price of basic membership is between $19.95 per month and $59.95 per month depending on the duration of the subscription. For a more advanced Total Connect membership people will pay between $23.95 per month and $44.95 per month depending on the duration of the subscription.
The review site BestDatingWebsitesReviews.com also provides reviews for other top dating sites such as Match.com, Chemistry.com, and PerfectMatch.
Their reviews are based on eight different criteria including Pricing, Membership, Ease of Use, Aesthetic Appeal, and Matchmaking/Compatibility Testing.
Each site is broken down with Pros and Cons and is given a star rating based on the review criteria.
The site says the reviews are all done by real people who spent time as members on each dating site to find out the details for people looking to pick the best site for themselves.
BestDatingWebsitesReviews.com boasts that it is more than just a review site, though. It also provides dating and relationship advice, as well as a forum for people to discuss their opinions on related topics.