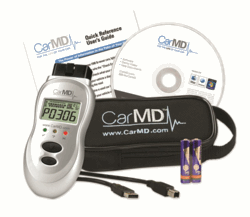 The CarMD is our pocket mechanic; we now have knowledge and a clearer understanding of a vehicle's faults
San Diego, CA (PRWEB) April 13, 2013
According to the latest statistics from R.L. Polk Co., the average car on the road in the US is now nearly 11 years old, which is an all-time record. With older cars and higher mileage come a lack of service warranty and the increasing chance of age- and extended use-related problems on the road.
New research out today, performed by AwesomeAllDay.com, tests the CarMD, a handheld device which aims to provide rapid, full diagnostics within just a few seconds, so that one can evaluate your vehicle's health 24/7.
CarMD simply plugs into the car's on-board computer system, and takes just seconds to identify faults such as carburetor issues, brake system problems or even loose gas tank cap. It issues users with codes, which, when the device is plugged into a PC or laptop, explains the codes in jargon-free language. It also provides users with approximate costs of both the parts required to fix the fault, for DIY-mechanics, or an estimated cost of getting the issue resolved in a local garage.
CarMD is currently offering the full Vehicle Health System for 3 payments of $39.95 plus $14.95 shipping and handling, making it just over $130 for the entire package. Bertens strongly recommends, "that you purchase from the Official CarMD.com site as counterfeits have been known to appear on third-party websites."
"We all worry that we are paying over the odds to have car faults rectified, as we're at the mercy of mechanics. And while most mechanics don't deserve the rap that they get, there may be a few unscrupulous ones out there that could charge us more than necessary," said Product Reviewer Bill Bertens. "The CarMD is our pocket mechanic; we now have knowledge and a clearer understanding of a vehicle's faults which gives us a bit of bargaining power and confidence when we're dealing with garages."
The CarMD is also perfect for testing a vehicle's health prior to a long drive, or when looking at used vehicles to purchase. Users can take along the device and plug into any car's port for a quick scan to highlight major (red) or minor (yellow) issues. When plugged into the PC, a full report can be accessed to empower the buyer to negotiate according to the vehicle's analysis.
"I used the system on my Impreza after purchase, as I'd been getting an intermittent brake light warning on the dash," continued Bertens. "I quickly ascertained the fault – loose wiring to the anti-lock brakes – and got an estimate for the part ($20-$40) and the fix ($100-140). I went along to the garage armed with a bit of self-believe and the result was that it cost well within the estimated cost and I've found a mechanic that I can trust."
There are many reviews of the CarMD online, the overwhelming majority very positive. Users find that the system gives them rapid access to a huge database of IMC (International Mechanical Codes) and CarMD's proprietary database of over half a million faults and resolutions.
"This is a must-have for every household; you can check a vehicle's health before a long drive, quickly analyze problems, see if there are any recalls and even evaluate used cars you're looking at buying," concludes Bertens. "A bargain for all of us, it could save hundreds in garage fees and bad purchases."
To ensure an authentic product, Bertens strongly recommends, "that you purchase from the Official CarMD.com site as counterfeits have been known to appear on third-party websites."
Bertens' in-depth CarMD review covers the setup & usage of CarMD, the costs, the pros and the cons. For more information or to read the review, please visit:
http://www.awesomeallday.com/carmd-review/
About AwesomeAllDay.com Reviews
AwesomeAllDay.com is an product review website, located in California, dealing with an array of items from Fitness to Beauty. Disclosure: We receive commission for any purchases made through links on this site that really help fund our ongoing awesome, impartial product reviews.