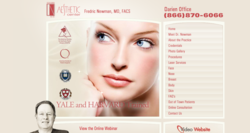 Darien, CT (PRWEB) July 21, 2011
According to the most recent study from the American Society for Aesthetic Plastic Surgery (ASAPS), more than 9.3 million cosmetic procedures were performed in 2010. Rhinoplasty accounted for more than 127,000 procedures and ranked as the seventh most performed surgical cosmetic enhancement in 2010. Dr. Fredric Newman, a board-certified plastic surgeon in Fairfield, CT, recently discussed the complexities of the rhinoplasty procedure; in particular, the growing number of revision rhinoplasty procedures his practice sees, adding that he performs nearly two secondary procedures to each original rhinoplasty.
Having performed thousands of rhinoplasty procedures over his 30-year career, Dr. Newman says that the most common reason his patients cite for pursuing a secondary rhinoplasty is the desire for improved cosmetic results following an unsatisfactory procedure at another practice. Dr. Newman adds that this experience with revision rhinoplasties has instilled an even greater respect for the complexity of this procedure.
In revision rhinoplasty, Dr. Newman says that each patient is unique and requires an individualized plan. In a majority of secondary procedures, scar tissue and patient frustration are two common considerations he must carefully manage to optimize the patient experience. He adds that the ability to adapt and adjust once the procedure begins is paramount to the success of each revision rhinoplasty. Ultimately, Dr. Newman says he believes that the decrease in rhinoplasty procedures over the last three years, as highlighted in the ASAPS study, is no coincidence, as the procedure is extremely complex and requires extensive experience and dedication as he strives to satisfy each patient's expectations.
About Fredric Newman, MD
Dr. Fredric Newman earned his medical degree Suma Com Laude from SUNY Downstate Medical Center. He went on to do training in general surgery at Harvard Medical School. He then served as the Plastic Surgery Chief Resident at the Institute of Reconstructive Plastic Surgery, New York University Medical Center. He has taught at Harvard Medical School, New York University Medical School, and the Columbia College of Physicians and Surgeons, among other institutions. Dr. Newman is a diplomat of the National Board of Medical Examiners, the American Board of Surgery, and the American Board of Plastic Surgery. He is a fellow of the American College of Surgeons, and a member of the American Society of Plastic Surgeons and the American Society for Aesthetic Plastic Surgery.
The Aesthetic Surgery Center is located at 722 Post Road, Ste. 200 in Darien, CT 06820, and can be reached at (866) 870-6066, or found online at fredricnewmanmd.com or The Aesthetic Surgery Center Facebook page.
###