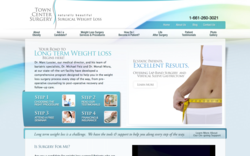 Los Angeles, CA (PRWEB) February 07, 2012
At his Los Angeles bariatric surgery practice, Town Center Surgery, Dr. Michael Feiz focuses on weight loss surgery procedures ranging from the LAP-BAND® System to gastric bypass. He says while the risks of living with morbid obesity significantly outweigh the risks of bariatric surgery, complications may still occur in achieving a patient's weight loss goals that require revision bariatric surgery. According to the American Society for Metabolic and Bariatric Surgery (ASMBS), of the 220,000 people with morbid obesity who had bariatric surgery in 2009, only 4% experienced any major complications. The study also reports the risk of death from surgical complications is less than 0.1%. Dr. Feiz says in the rare event of a medical setback or an unmet patient goal regarding their weight loss journey, revision bariatric surgery in Los Angeles has been one of his most successful procedures in correcting problems from an earlier procedure and getting the patient back on track towards a healthier life.
Dr. Feiz says that despite its overall success, rare cases do occur in weight loss surgery where patients may experience unsatisfactory weight loss results or setbacks with their procedure including difficulty swallowing food, difficulty adjusting to new dietary habits, or other more serious medical complications. When these symptoms occur, he says patients have the option of undergoing revision bariatric surgery to correct these complications and improve comfort and effectiveness of the procedure. Dr. Feiz adds that revision weight loss surgery in Los Angeles can offer patients a successful option for continuing their goal of leading a happier and healthier life.
Because of the complexity of weight loss surgery procedures, Dr. Feiz says he recommends patients take great care in selecting a bariatric surgeon with the proper experience and credentials in addressing the concerns during revision weight loss surgery. He also adds that patients who properly research and prepare for a revision bariatric surgery can help reduce the risk of medical complications and improve the success of their weight loss results. By undergoing a procedure such as revision weight loss surgery, Dr. Feiz says patients can take significant steps towards a healthier daily routine and a more positive outlook on life.
About Michael Feiz, MD
Dr. Michael Feiz received his undergraduate degree in Neuroscience from UCLA, graduating summa cum laude, while simultaneously completing a Master's thesis in Biochemistry. He received his medical degree with honors from New York Medical College and completed his internship and residency at the Los Angeles County/USC Medical Center. Dr. Feiz continued his medical training during a Fellowship in Bariatric & Minimally Invasive Surgery at Cedar Sinai Medical Center. He is an active member of the American Society for Bariatric Surgeons, the American College of Surgeons, the American Medical Association, and the Society of American Gastrointestinal Endoscopic Surgeons.
About Town Center Surgery
Headed by Medical Director Dr. Marc Lussier, Town Center Surgery is a comprehensive plastic surgery and bariatric weight loss surgery practice. The facilities and operating room at Town Center Surgery are certified by the Accreditation Association for Ambulatory Health Care. Providing a multi-disciplinary approach to medical and surgical care, Dr. Feiz and Dr. Lussier are accompanied by Dr. Monali Misra, a bariatric and general surgeon specializing in laparoscopic and endoscopic procedures. Town Center Surgery combines bariatric, nutritional, and mental health counseling to serve patients fighting morbid obesity and promote healthy living.
Located at 24510 Town Center Drive, Suite 180 in Valencia, CA, Town Center Surgery can be reached at (661) 260-3021. It can also be contacted online via the website towncentersurgeryweightloss.com, lussiermd.com, or facebook.com/pages/Weight-Loss-Surgery-Valencia-Town-Center-Surgery/179429731800.
###