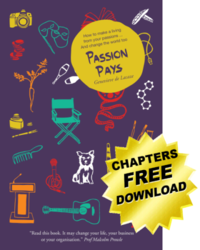 London, England (PRWEB) December 20, 2012
"Most people are so unhappy at work that they are literally sleep-walkers and living-dead. This can't be good in any economy, let alone a recession," says humanitarian and jobs and career expert, Genevieve de Lacaze. "Let's revive them and in the process enliven the economy. People make the economy, not the other way round."
Newcomers and veterans alike fear for their future and are now desperately in need of positive role models and inspiration. People are looking in the mirror and telling themselves that to change their lives, they must change their work. And this is not as hard as it seems. Genevieve de Lacaze, jobs and career change expert, shows her readers how, in her timely book "Passion Pays: How to make a living from your passions and change the world too". To view a short trailer, the book Contents or download the first three chapters, go to http://passionpaysbook.com
Professor Malcolm Prowle, co-author of "Public Services and Financial Austerity: Getting out of the Hole", commented: "Many people, businesses and public sector organisations are in a state of gloom and despair at the moment, consequent of the global financial and economic situation. What is it that can lift this mood and inject a sense of energy and urgency into them? In a few words – this book by Genevieve de Lacaze."
Passion Pays is passionately argued, soundly researched and enticingly written. "Passion Pays will permanently change how you see the world of work - and how you see yourself in it," adds Genevieve. "Ultimately, all our thoughts, feelings and actions; all our failures and successes, boil down to our view of the world."
Readers go through a step-by-step journey of career change backed with proven methods, mindsets and stories from 30 ordinary yet inspiring men and women from around the world. People such as Darren Lacroix, the ultimate underdog story which is told with humor and hope; Rick Mathews, Founder of Poems to Songs who was first discovered by Warner Brothers when he was only 20 years old; or even Sharon Eden, an Inner Leadership Coach and Psychologist who had to overcome her depression. Passion Pays is more than a book and full video/audio interviews are available for readers to get inspired to change their own lives.
Take a few minutes to view the book trailer, the contents or read an excerpt for yourself on the book website at http://passionpaysbook.com. 'Passion Pays: How to make a living from your passions… and change the world too' is available now from major booksellers such as Amazon or Barnes & Noble. You may also listen to the GenieCoach as she hosts the Get Passionate radio show at getpassionateradio.com
About Genevieve de Lacaze
Genevieve de Lacaze is a job and career change expert and humanitarian who loves creating passionate conversations and ventures to uplift people in their life and career choices. She writes articles, delivers presentations and workshops on many empowering subjects in Europe, USA and Central America. She hosts the Get Passionate Radio Show.
She is the Official Expert Guide on Career Development at Selfgrowth.com, #1 self-improvement website, and the Intl Head of Continuous Professional Development at the International Institute of Coaching (IIC). She is also passionate about tennis and coaches the game part-time.
But really. just an ordinary girl. changing the world. one passion at a time.