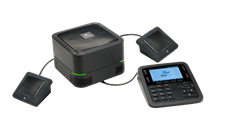 "The size and calling flexibility of the Revolabs FLX UC 1500 allows you to have a conference call in any room that works for you, using the technology that's most convenient." - Elizabeth Krohn, VoIP Supply Product Marketing Specialist
Buffalo, NY (PRWEB) July 14, 2015
VoIP Supply, North America's leading provider of VoIP solutions, is partnered with Revolabs to bring customers VoIP conference phones that offer unmatched audio quality allowing users to "hear every word."
Revolabs Inc. is a premier provider of audio solutions for Unified Communications (UC), enterprise collaboration, and professional audio applications across a wide range of markets and applications supporting the road warrior to the executive board room.
VoIP Supply is announcing the availability of the new Revolabs FLX UC 1500 VoIP and USB conference phone.
The FLX UC 1500 builds upon the existing technology of the FLX UC 500 conference phone for PC-based Unified Communications and the FLX UC 1000 for VoIP and USB conferencing.
The UC 1500 is designed as a complete solution for larger conference rooms and includes:

Professional Audio: Dual speaker system with tweeter and mid-woofer plus four directional microphones and echo cancellation.
Display Dialer: Dedicated, full color display dialer pad has navigation buttons and an easy to use menu system to simplify user experience when making calls and integrating with calling platforms.
Extension Microphones: Includes two additional extension microphones to expand coverage in larger conference rooms of up to 18 people.
VoIP Calls and USB Calls: The UC 1500 can bridge VoIP calls and USB calls from 3rd party softphone applications like Skype, Cisco Jabber, Cisco IP Communicator, GoTo Meeting, WebEx, X-Lite, Broadsoft UC-One, and Vidyo.
The FLX UC 1500 won the AV Technology Best of Show Award at InfoComm 2015 for its feature set and ease of use and installation.
"The size and calling flexibility of the Revolabs FLX UC 1500 allows you to have a conference call in any room that works for you, using the technology that's most convenient," said Elizabeth Krohn, Product Marketing Specialist at VoIP Supply. "This is a great solution for BYOD office environments."
For more information about the Revolabs FLX UC 1500 VoIP and USB conference phone available through VoIP Supply, call 800-398-VoIP or visit http://www.voipsupply.com/revolabs-flx-uc-1500-ip-usb-conference-phone-with-extension-microphones.
About VoIP Supply
We solve problems and create solutions with VoIP. VoIP Supply is a world class place to work with big goals, a clear vision, defined purpose and a dedicated team of passionate business professionals. We love what we do and do it better than any of our competition.
Since 2002, VoIP Supply has been the leading supplier of VoIP equipment and complete VoIP solutions in North America. We are known in the industry as responsive and knowledgeable VoIP product experts.
With everything you need for VoIP, VoIP Supply has grown rapidly throughout the years. VoIP Supply is a three-time Inc. 500/5000 honoree, listed by Business First as one of WNY's Most Admired Companies, as well as one of Western New York's Best Places to Work for many consecutive years. VoIP Supply is also the first Certified B Corporation in Western New York.