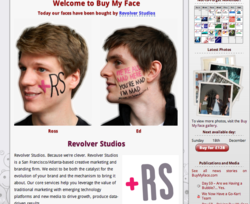 Our painted faces went down a treat with our fellow ballet-goers, and the ladies were all over us! - Ed
Atlanta, GA (PRWEB) December 01, 2011
Katherine Mathis, founder/principal of San Francisco/Atlanta-based Revolver Studios, first heard about Buy My Face while driving to a meeting at 6am on local radio. "I emailed them as soon as I got back to my computer and booked the first date I could," says Mathis. "Turns out we're their first American advertiser."
London-based Cambridge graduates Ross Harper and Ed Moyse, both 22, came up with Buy My Face as a means to pay off their combined student debt of $80,000. Every day for one year, the two best friends are painting a logo or message on their faces, and are uploading each day's pictures to the homepage of BuyMyFace.com and various social media outlets. Having made $15,000 in the past two months, it seems they're on track to reach their goal much earlier than expected.
As website hits continue to snowball, companies are looking to send the pair to bigger and better places. Ernst & Young recently purchased the faces of Harper and Moyse for a period of 10 days in December, during which they will be sending the boys on a skiing trip to be attended by 3000 university students.
"It's the ultimate one-year job. We're paid to meet interesting people and enjoy ourselves," stated Moyse. "If what we do is fun, that's brilliant for us, and our advertisers are happy too, because we have a good collection of photos, tweets, status posts and blog entries."
"It's the perfect melding of the online/offline experience, which so many marketers struggle to solve," says Mathis. "Ross and Ed are using the online medium to draw attention offline, via their daily real-world experiences. I love it."
Although the main way they're getting their faces out there is viral, Ross and Ed try to pack their calendar with as many events as possible, and they're willing to take client requests. Harper hypes, "If you need two handsome gentlemen to stroll down the red carpet, we're there! If you need help carrying the shopping home, we're there!"
Revolver Studios confirms Harper's claim. According to Katherine, "They made big efforts to conjure up an interesting event for our day. One suggestion was a 'Formal Hall' dinner at their alma mater, but I was slow on the uptake and tickets sold out." Ross and Ed subsequently proposed outdoor ice skating at the Winter Rink in Covent Garden, but Revolver Studios preferred to send them somewhere they would really stand out. They wanted to send them to a destination where a painted face would be outlandish.
And so it was that Ed and Ross spent Tuesday evening at London's Royal Opera House, enjoying a stately dinner beforehand at the ROH's Amphitheatre Restaurant, with the pink and black Revolver Studios logo emblazoned on their cheeks. Yesterday morning, Ed blogged, "Our painted faces went down a treat with our fellow ballet-goers, and the ladies were all over us!" One must bear in mind that the average age of The Royal Ballet's audience is 84. Ed continued, "After leaving our numbers on some embroidered handkerchiefs, we headed back home feeling pretty chuffed."
Slated to now make over $300k this year, Ross and Ed have decided to give their site a more charitable role this Christmas. On December 14th, an eBay auction will open to buy Harper and Moyse's faces for Christmas day. The highest bidder will have their logo painted on the boys' faces on Christmas, and all the proceeds will go to a charity, as chosen by a public vote hosted on BuyMyFace.com.
About Revolver Studios (http://www.revolverstudios.com)
Revolver Studios is a San Francisco/Atlanta-based creative marketing and branding firm. We exist to be both the catalyst for the evolution of your brand and the mechanism to bring it about. Our core services help you leverage the value of traditional marketing with emerging technology platforms and new media to drive growth, produce data-driven results.
About Buy My Face (http://www.buymyface.com)
Buy My Face is the brain child of former Cambridge University students Ed Moyse and Ross Harper. Crippled with student debts after finishing University, Ed and Ross decided to fund their student debts by selling advertising space on their faces for 366 days.
About The Royal Ballet (http://www.roh.org.uk/)
The Royal Ballet is an internationally renowned classical balletcompany, based at the Royal Opera House in Covent Garden, London,England. The Royal Ballet was one of the foremost ballet companies of the 20th century, and continues to be one of the world's most famous ballet companies to this day, generally noted for its artistic and creative values.
# # #