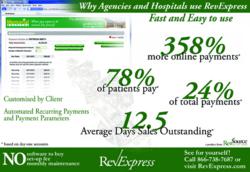 RevExpress is so easy to use, 78% of the people that log on make a payment.
Muncie, IN (PRWEB) October 12, 2011
RevSource Solutions, LLC, one of the nation's leading personalized online payment solution providers, is offering the RevExpress personalized online payment solution to collections agencies and hospitals for early out self-pay and bad debt. The RevExpress solution accelerates payments and increases revenue generated for hospitals or collection agencies clients, while optimizing the efficiencies of the agency and their clients.
RevExpress is an innovative online payment solution for early out and self-pay receivables where clients are seeing increases of over 300% above traditional payment portals. Payments are quick and easy because of the personalized, pre-populated RevExpress websites where the average payments are made 12.68 days from the day statements are sent out, decreasing total Days Sales Outstanding. RevExpress is so easy to use, 78% of patients that log on make a payment.
"Benefits of RevExpress include accelerated payments and increased efficiencies within collection agencies, resulting in higher profit margins," commented Shawn Kerrigan, president at RevExpress. "Integrating with the existing merchant account has enabled us to increase efficiencies for the agencies and reduce time consuming manual payment processing. Integration, intrigue and automation have been able to decrease average payments down to 12.68 days."
RevExpress enables users to customize the look and payment parameters by client. It also enables the healthcare facilities to advertise their service lines to their patients.
The solution also deposits funds directly through the client's existing merchant account to speed the receipt of funds. This automated feature creates efficiencies within the agency and further decreases the risks associated with manually processing transactions.
"We have witnessed great success and efficiencies for collection agencies collecting on behalf of healthcare organizations," commented Paul Smith, president, RevSource Solutions. "Collection agencies are realizing increased and accelerated revenue while taking advantage of efficiencies by utilizing RevExpress and its automation."
To learn how you can increase and accelerate revenue, visit http://www.RevSourceSolutions.com or email info(at)revsourcesolutions(dot)com.
About RevSource Solutions:
RevSource Solutions, LLC headquartered in Muncie, Indiana has developed innovative and efficient receivables management and revenue cycle enhancement solutions. RevExpress utilizes secure, personalized websites to increase and accelerate revenue. The Company facilitates the management of payments, processing, remittance, e-mail confirmations, demographic data and insurance updates all in a single online solution. Clients representing market sectors include Healthcare, Collection Agencies, Law Firms, Charitable Organizations, and Membership Organizations.
RevSource Solutions, RevExpress and respective logos are trademarks of RevSource Solutions, LLC. Other company and product names may be trademarks of their respective owners.
Media Contact:
Paul G. Smith
765/744-3443
pauls(at)revsourcesolutions(dot)com
# # #