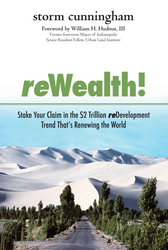 In an age of climate change, destructive development, and species extinction, 'reWealth' points to us to a new paradigm of restoration and replenishment.
Washington, DC (PRWEB) December 1, 2009
In advance of COP 15, the United Nations Climate Change Conference scheduled for December 7-18 in Copenhagen, business, finance, and government leaders are saying that a recent book offers a blueprint for solving both the climate change crisis and the global economic crisis.
On November 12, George L. Ochs, Managing Director, Global Real Assets, JP Morgan (London) revealed the growing reputation of 'reWealth' -- the 2008 book from McGraw-Hill by Washington, DC-based revitalization guru Storm Cunningham. Ochs said 'reWealth' is fast becoming "the secret weapon of responsible redevelopers, successful real estate investors, and effective community leaders."
The book's author -- who also writes a column for ReNew Canada magazine -- recently returned from Copenhagen, where he worked on a climate-friendly regional revitalization strategy for the Danish government. Cunningham reports a growing flood of calls from mayors, government officials, and financial leaders the world over, as word of 'reWealth' spreads.
His callers in the past few weeks have been as diverse as the Prime Minster of a Caribbean nation, a political candidate in Papua New Guinea, a mayoral candidate in New Orleans, the Executive Director of a regional planning commission in Ohio, a leading economist in Puerto Rico, and the head of Israel's civil engineering association.
Barry Patterson of the Biomimicry Guild says, "In an age of climate change, destructive development, and species extinction, 'reWealth' points to us to a new paradigm of restoration and replenishment. 'reWealth' is a fundamental rethinking of our economic models and the way we grow our cities."
JP Morgan's Ochs explained, "Storm Cunningham was ahead of his time when his modern classic, 'The Restoration Economy,' was published in 2002. Now, we see national economic stimulus efforts focused on infrastructure renewal, nature restoration, brownfields redevelopment, adaptive reuse, and community regeneration."
Institutional investors such as JP Morgan, insurance companies, and pension funds have long desired a way to ensure that their urban redevelopment investments result in ongoing revitalization. This increases their portfolios' safety, and their return on investment. Ochs continued, "In 'reWealth', we have a blueprint for economic recovery at both local and global scales. It's THE book on bringing places back to life: the first rigorous, systematic, proven approach to urban and rural revitalization. Individual and institutional investors who read 'reWealth' will expand their grasp of many abundant opportunities for a renewed future."
In 2008, during the US Presidential election -- when the depth of the global financial crisis was just becoming evident -- Bill Leary, former Director of Natural Resources at the White House Council on Environmental Quality said, "This is the book world leaders should be talking about! In 'reWealth' they will find the path to revitalizing our economy, restoring our environment, and renewing the quality of our lives. For all the talk of change in this Presidential cycle, the candidates all missed the economic sea change that Storm Cunningham has found and revealed in 'reWealth.'"
JP Morgan's Ochs learned of 'reWealth' via an Irish banking executive friend, indicative of the word-of-mouth nature of the book's growing reputation. He concluded, "With 'reWealth,' Cunningham firmly cements his reputation as the world's thought leader on community revitalization and natural resource restoration."
Cunningham recently said, "With the COP 15 meeting right around the corner, integrative solutions should be on everyone's lips." This strategy was echoed by Nina Winham, a principal of New Climate Strategies and a former CBC Radio journalist. She reported: "One of the best sources for stimulating the right type of strategic thinking (is) 'reWealth'…Solving multiple problems with single, elegant solutions."
Cunningham -- who is CEO of Resolution Fund, LLC in Washington, DC -- hopes the folks in Copenhagen are paying attention.
Contact:
Storm Cunningham, CEO
Resolution Fund, LLC
1300 Pennsylvania Avenue, NW
Suite 700, Ronald Reagan Building
Washington, DC 20004 USA
Office: 202-204-3040 Fax: 202-789-7349 Cell: 703-626-5155
Direct line for reporters: 703-348-7878
Skype ID: restorm
Storm@resolutionfund.com
http://www.PlacesToInvest.com
http://www.StormCunningham.com - keynotes & workshops
http://www.Revitalization.org - academic network
###