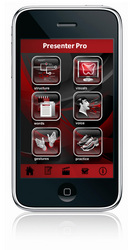 As the most powerful mobile platform for learning, the iPhone's multimedia capabilities complement our engaging content well
San Francisco, CA (PRWEB) June 4, 2009
Today Rexi Media announced the release of Presenter Pro, the first application to deliver professional presentation skills training to the iPhone. Based on leading executive training programs developed by Rexi Media for Fortune 500 corporations, Presenter Pro uses media-rich content to teach business professionals how to deliver high-impact, memorable presentations, without a high-impact, memorable price.
Presenter Pro makes available a caliber of training traditionally only affordable by large corporations. Combining rich supporting graphics, audio, and video, with proven techniques from psychology, sociology, advertising, sales, and education, Presenter Pro was designed to give corporate and sales executives, managers, trainers, lawyers, and other professionals the skills needed to become outstanding presenters.
"Effective presentation skills are critical to growing a company's business," said Tom Hale, Chief Product Officer at Linden Lab. "Presenter Pro has not only helped me polish my presentations, but allows me to keep those skills sharp while on the go."
Keeping an Edge in a Tough Economy
With unemployment rates reaching new highs, and competition for business fierce, keeping an edge that helps differentiate you, as well as your company, is critical to survival. Rexi Media's introduction of Presenter Pro is a timely and economical answer for professionals looking for tools to help them stay ahead. Presenter Pro delivers training content that costs thousands of dollars per person in a corporate environment, for only $4.99.
"In today's economic environment we must break away from the boring sameness of the typical presentation and distinguish ourselves," said Dr. Carmen Taran, executive at Rexi Media. "Our corporate clients have asked us to create a mobile application that encapsulates Rexi Media's approach to advanced presentation training so their employees can continually improve a skill set which is not optional, but mandatory. Presenter Pro is not simply an application… it is a survival tool."
"As the most powerful mobile platform for learning, the iPhone's multimedia capabilities complement our engaging content well," said Danielle Daly, executive at Rexi Media. "Time and again, business professionals have expressed to us a need for high-quality presentation training content on a mobile platform, so we developed Presenter Pro to make our enterprise training accessible to everyone. Presenter Pro is a tool for professionals who don't simply want to survive during these difficult times, but wish to thrive."
An iPhone Application for Business Users
With the introduction of Presenter Pro, Rexi Media has set a new standard for business applications on the iPhone. By empowering users to be more effective in their daily business lives, Presenter Pro is an indispensible tool for professionals who need to influence audiences. The application is a best-in-class business solution now available on the iPhone.
Pricing and Availability
Presenter Pro is currently available through Apple's iPhone Application Store and sells for $4.99.
About Rexi Media
Founded in 2007, Rexi Media works internationally to provide executive coaching and training designed to help business professionals give outstanding, memorable presentations that transform audiences into advocates. For more information on Rexi Media visit http://www.reximedia.com. For more information on Presenter Pro visit http://www.reximedia.com/products/presenterpro/
For more information, press only:
Brandon Graff
Phone: (408) 417-0824
Email: bgraff (at) reximedia (dot) com
# # #