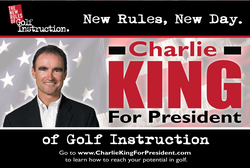 The 'current administration' is still doing things the old way, which is trying to force students into a method, or model. I think it's time for us to take a complete new direction in golf instruction, and high time for people to stop being frustrated with their game and with themselves
Greensboro, GA (Vocus) June 9, 2010
He may be running for an office that does not exist, but that has not stopped Charlie King from announcing his candidacy for President of Golf Instruction.
King, the Director of the Reynolds Golf Academy at Reynolds Plantation, created this fictional campaign during this election year to highlight a problem and provide the solution.
"The 'current administration' is still doing things the old way, which is trying to force students into a method, or model. I think it's time for us to take a complete new direction in golf instruction, and high time for people to stop being frustrated with their game and with themselves," says King.
An acclaimed teacher, author and 17-year member of the PGA of America, King wrote the "New Rules of Golf Instruction," the 2009 e-book that led to the development of the New Rules Golf School at Reynolds Golf Academy. "Our 'New Rules' philosophy means we don't make you look like a golfer, we turn you into a golfer," King says. "We focus on essential golf skills that great golfers all have in common."
Since he is often told that his passion for teaching golf makes him sound like he's running for office, King figured he might as well get in the race. Technically, there is no race – which may explain why King is currently running unopposed, and atop all the polls. No matter. While King may be innovative in his methods of getting golfers' attention, he is equally intense in his approach to serious, success-oriented golf instruction.
"I started this campaign for President of Golf Instruction to draw awareness to the need for a different way of teaching and an innovative way of thinking about every golfer's abilities," said King, who has been repeatedly ranked as one of the leading golf instructors in the country.
"I want to invite golfers to join the revolution," King says. "We are going to have fun with it, of course, but the reality is that I know they will find something that will make a real difference in their golf game."
Those interested in King's run for President of Golf Instruction can provide their support and preview his upcoming videos at http://www.charliekingforpresident.com.
About Reynolds Plantation
Named the "Best of the Best" Golf Community by Robb Report and the community with the "Best Golf" in America by the editors of GOLF Magazine, Reynolds Plantation, located between Atlanta and Augusta, Georgia, is situated along 374 miles of shoreline on Lake Oconee. Reynolds Plantation features 117 holes of championship golf from designers Bob Cupp, Jack Nicklaus, Tom Fazio, Rees Jones and Jim Engh. Reynolds Plantation is also home to The Reynolds Golf Academy, as well as the exclusive TaylorMade Kingdom. The community offers members a variety of dining options, swimming pools, pedestrian trails, four full-service marinas and The Lake Club Wellness Campus with its award-winning Tennis Center. Reynolds Plantation is also home to The Ritz-Carlton Lodge, a 251-room lakefront resort and spa ranked No. 5 in the "Top 100 Golf Resorts" worldwide by Condé Nast Traveler Magazine. For more information or real estate inquiries, call 800-800-5250 or visit http://www.reynoldsplantation.com.
###