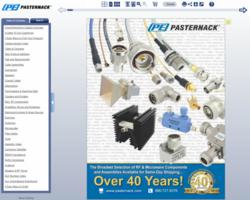 This interactive catalog is simply another helpful tool we are offering our customers to make finding and buying RF and microwave components and assemblies quicker and easier than ever before
Irvine, CA (PRWEB) October 26, 2012
Pasternack Enterprises, Inc., a leading ISO 9001:2008 manufacturer and global supplier of RF and microwave products, releases a new online, interactive version of their latest "2012B" edition RF catalog.
Pasternack's interactive RF catalog is a new innovative tool which contains all of the same content as the printed catalog, but offers additional capabilities that make finding your products easier than before. Page-turning animation simulates the look and feel of a tangible RF catalog, but the interactive version allows the user to click on any product inside the 264 page online book and it will link directly to the product page on Pasternack's new RF website. The viewer can also move freely between their online shopping cart and this catalog when browsing for products.
Additional features of the new online, interactive Pasternack "2012B" RF catalog include multiple viewing options such as single-page, double-page and thumbnail views depending on the user's preference. Zoom capabilities were also added for viewing clarity. The new interactive RF catalog provides multiple ways for products to be found quickly and easily such as a dynamic table of contents and a handy product search bar. The RF catalog is even optimized for usage on all mobile devices such as Smart Phones and Tablets.
"The interactive catalog is proving to be very useful to our growing population of online and mobile customers," says Shaun Gameroz, Marketing Manager for Pasternack Enterprises, Inc. "This interactive catalog is simply another helpful tool we are offering our customers to make finding and buying RF and microwave components and assemblies quicker and easier than ever before."
Pasternack's new interactive RF and microwave catalog is available now. You can view the interactive catalog by navigating to it on Pasternack's new website or by visiting http://www.pasternackcatalog.com directly. Pasternack Enterprises, Inc. can be contacted at +1-949-261-1920.
# # #
About Pasternack Enterprises, Inc.
A leader in RF cables, adapters and connectors since 1972, Pasternack Enterprises is an ISO 9001:2008 certified manufacturer and global supplier of RF and Microwave products. Pasternack offers off-the-shelf availability and same-day shipping of the industry's broadest selection of more than 35,000 quality RF and Microwave components and assemblies.
Press Contact:
Ken Vitto
Pasternack Enterprises, Inc.
17802 Fitch
Irvine, CA 92614
(949) 261-1920