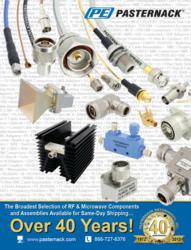 We're pleased to introduce this year's second edition of the Pasternack catalog, complete with new product additions and features designed to create a better user experience
Irvine, CA (PRWEB) October 02, 2012
Pasternack Enterprises, Inc., a leading ISO 9001:2008 manufacturer and global supplier of RF and microwave products, releases their all new "2012B" edition RF and microwave parts catalog. Pasternack's latest 264 page catalog contains over 35,000 unique RF products such as cable assemblies, connectors, adapters, attenuators, antennas, test and measurement components and much more, all available for same-day shipping worldwide.
New products added to Pasternack's catalog include low PIM cable assemblies, adapters and connectors, which are ideal for wireless infrastructure applications. SMA, Type N, TNC, MCX and MMCX precision connectors for semi-rigid and formable cable assemblies are also new. Pasternack has expanded their millimeter wave product line with the recent additions of their new high frequency attenuators and terminations up to 50 GHz. Highpass and Lowpass filters up to 3 GHZ have also been added for greater coverage of popular frequency bands.
A new feature of the Pasternack "2012B" catalog is the easy-to-use cable assembly and adapter matrices at the beginning of these sections. These matrices provide the user with a quick and easy method to identify the page number for their desired in-series and between-series cable assembly or adapter. Another feature of this catalog incorporates intuitive product layouts for each section, where products are grouped in a logical order based on how industry professionals search for products.
"We're pleased to introduce this year's second edition of the Pasternack catalog, complete with new product additions and features designed to create a better user experience," explains Shaun Gameroz, Marketing Manager for Pasternack Enterprises, Inc. "We are committed to continually improving our catalog in an ongoing effort to meet and exceed the needs and expectations of our customers."
Pasternack's new "2012B" edition RF and microwave parts catalog is available now. Visit Pasternack's new website at http://www.pasternack.com to request your free copy of their new printed catalog. Pasternack Enterprises, Inc. can be contacted +1-949-261-1920.
About Pasternack Enterprises, Inc.
A leader in RF cables, adapters and attenuators since 1972, Pasternack Enterprises is an ISO 9001:2008 certified manufacturer and global supplier of RF and Microwave products. Pasternack offers off-the-shelf availability and same-day shipping of the industry's broadest selection of quality RF and Microwave components.
Press Contact:
Ken Vitto
Pasternack Enterprises, Inc.
17802 Fitch
Irvine, CA 92614
(949) 261-1920