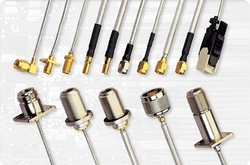 Torrance, CA (PRWEB) October 28, 2009
Traditionally it was difficult to figure out the composition of a cable assembly. It was confusing to know which connector goes with which cable type. Even if we tried making one RF cable assembly, many of buyers were not sure if it was the correct combination. Not only it was confusing to figure out correct composition, but also it took much time to get a simple quote. One inquiry had to go back and forth many times. This is the reason why RFAC Solutions came up with creative, easy-to-use internet solution to customize RF cable assembly.
RFAC Solutions' online cable assembly customizing program gives guideline for each step, so there is a little room to make an error and very easy to understand. If one is not sure what type of coaxial connector or cable he or she is looking for, then there are lists and specification sheets to help. Once pick out a cable assembly, the internet program gives quotation right away along with part number and description, which saves a lot of time for buyer and engineer. There are literally thousands of RF cable assembly combinations available from RFAC Solutions, which carries MMCX, MCX, SMA, SMB, SMC, TNC, BNC, N connector and more. RFAC Solutions offer extensive range of cables from semi-rigid cable, conformable cable, and many of flexible cable types such as RG316, RG316D/S, RG400, RG58, RG174, RG178, RG200, RG214, RG223, RG179, RG59, LMR 200, LMR240, LMR400, and Belden 8218. RFAC Solutions has proven its quality with many high quality clienteles, and has given competitive pricing to the client's RF cable assembly requirement.
Visit online customizing site at http://www.rfacsolutions.com/cable-assembly.php. RFAC Solutions is located at 377 Van Ness Way Suite 1205, Torrance, CA 90501. Also can be reached by telephone 310-328-5590, fax 310-328-5512, or e-mail rfac@rfacsolutions.com.
###