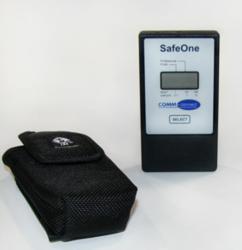 The new SafeOne® Pro Personal RF Monitor is an important awareness tool employers should make available to their employees for compliance with FCC, OSHA, and other safe workplace requirements
Greenville, NC (PRWEB) May 31, 2013
LBA Group, Inc. announced that its RF equipment division, LBA Technology, Inc., is rolling out the popular SafeOne® Personal RF Safety Monitor with improved features. Key improvements to the unit include extended battery life with regular alkaline batteries and a battery life indicator. Two AAA batteries can operate the unit for more than 250 days. The upgraded unit is being offered by LBA as the SafeOne® Pro.
LBA has put hundreds of SafeOne® units in the field in recent years. The SafeOne® is popular for several reasons. It offers a frequency range of 10 MHz to 10,000 MHz, and it's more affordable, smaller and much lighter than other units in its class. LBA has supplied the rugged SafeOne® to major companies and government entities such as the U.S. Forest Service, General Dynamics, and NSORO.
"The new SafeOne® Pro Personal RF Monitor is an important awareness tool employers should make available to their employees for compliance with FCC, OSHA, and other safe workplace requirements," said Dr. Chris Horne, PE, LBA's Chief Technical Officer.
The SafeOne® Pro is the size of a cell phone and weighs less than 3 ounces. LBA provides a heavy duty nylon protective case with a loop that can easily fit on any belt, but is also designed for tower climbers to attach to their climbing belt. LBA adapted the SafeOne® Pro to sustain the rigors of tower climbing. The unit has proven to be especially popular with those who work on tower and around towers and antennas. This makes the SafeOne® Pro that much more rugged and dependable for those who stay on the ground but work around potential RF hazards.
Operation of the unit is also simple and intuitive with both an audio and visual warning when the IEEE and ICNIRP limit is exceeded. The SafeOne® Pro gives an immediate alert to high frequency radiation fields that could be a health hazard. The unit displays an approximate value of RF strength to help the user determine how long it is safe to stay in the radiation field. The warning mode allows for both audio and visual warnings and visual only warnings.
LBA is excited to be the exclusive distributor of the new SafeOne® Pro Personal RF Safety Monitor in North and South America. Entire company teams no longer have to share an expensive monitor. Access to the SafeOne® Pro is so affordable that every member can have their own.
For more information on the SafeOne® Pro, go to: http://www.lbagroup.com/products/safeone-rf-monitors; or contact Betty Perez, bperez(at)lbagroup(dot)com, 252-757-0279.
About LBA
LBA Group, Inc. has 50 years of experience in providing RF asset solutions and risk management for industrial and telecommunications infrastructure assets. The company is comprised of LBA Technology, Inc., a leading manufacturer and integrator of radio frequency systems, lightning protection, and EMC equipment for broadcast, industrial, and government users worldwide; LBA University, Inc., providing on-site and online professional training; and the professional engineering consultancy Lawrence Behr Associates, Inc. The companies are based in Greenville, N.C., USA. Keep up with the LBA companies on Facebook at: http://www.facebook.com/LBAGroup.