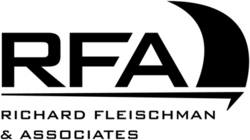 The Avaya certification assures that RFA is among the most qualified and knowledgeable technology advisors in the industry.
New York, NY (PRWEB) February 29, 2008
Richard Fleischman and Associates (RFA), a leader in outsourced IT solutions and the trusted advisor to more than 400 hedge funds, today announced that it has become an enterprise level business partner and an authorized member of Avaya BusinessPartner Program, a reseller program encompassing more than 2,500 companies around the globe.
RFA provides fully outsourced IT solutions, including voice integration, to over 400 hedge funds, fund of funds, private equity funds and alternative asset management firms across the globe. As an authorized BusinessPartner for Avaya Inc., a leading global provider of business communications applications, systems and services, RFA will have access to the technical support and training needed to help their clients use Intelligent Communications solutions to transform their business operations.
Members of the Avaya BusinessPartner program have the opportunity to achieve advanced certifications in Avaya systems and software, as well as in multivendor solutions that incorporate technology from other vendors. Partner companies also must meet rigorous criteria for service delivery and customer satisfaction.
"Avaya's BusinessPartner program helps us ensure that customers have a consistent, quality experience, whether they buy direct from Avaya or indirect through a partner like RFA," said Donny Ward, Jr., vice president, North America Channels, Avaya. "Through their membership in our program, RFA is helping us extend our reach to the financial services industry and deliver the kinds of complete, end-to-end solutions that these businesses need."
RFA's End-to-End Voice Integration and Support Services
RFA is a trusted technology advisor for its financial service clients and offers a full "in house" team to support the lifeline of their client's business with voice and data integration teams working together to offer network infrastructure and office functionality designed and maintained entirely by one team and supported by RFA's world class 24x7x365 help desk.
"Our partnership with Avaya strengthens our ability to engage, implement and support all of our client's voice integration systems with a best-of-breed global service offering," says Richard Fleischman, president of RFA. "The Avaya certification assures that RFA is among the most qualified and knowledgeable technology advisors in the industry."
About Richard Fleischman & Associates (RFA)
Established in 1990 and headquartered in New York, NY, Richard Fleischman & Associates is a trusted advisor to over 400+ hedge funds, private equity funds and fund of funds globally, offering both turnkey IT solutions and on-site and remote monitoring staffed 24/7/365. As a full-service technology-outsourcing provider, RFA delivers expert service by its team of more than 130 expert IT consultants. RFA maintains a world-class data center in Purchase, NY, providing fully equipped office and trading desk space, disaster recovery and business continuity services. For more information, visit http://www.rfa.com or call 212.867.4600.
About Avaya
Avaya Inc. designs, builds and manages communications networks for more than 1 million businesses worldwide, including over 90 percent of the FORTUNE 500®. Focused on businesses large to small, Avaya is a world leader in secure and reliable Internet Protocol (IP) telephony systems and communications software applications and services.
Driving the convergence of voice and data communications with business applications - and distinguished by comprehensive worldwide services -Avaya helps customers leverage existing and new networks to achieve superior business results. For more information visit the Avaya Web site: http://www.avaya.com.
###