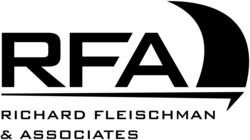 Chris' proven leadership and extensive knowledge of the New York, Connecticut and the Boston financial markets will help accelerate our market growth in these strategically important regions and we are delighted to welcome him to the RFA team
New York, NY (PRWEB) July 9, 2008
Richard Fleischman & Associates (RFA), a leading provider of technology and IT services and the trusted advisor to more than 400 hedge funds and private equity firms, today announced that Chris Chartier has joined the company as a Business Development Associate.
In this new role at RFA, Mr. Chartier will serve as RFA's primary business development contact in the Westchester County (New York), Fairfield County (Connecticut) and the Boston (Massachusetts) regions.
Mr. Chartier brings to RFA significant experience working in the alternative asset space in the Boston, Southern CT and New York City regions. Recently, he served as a senior member of the EMC Corporation sales team based in New York City where he focused on hedge funds, broker dealers and international banking accounts and closed the largest commercial hardware/software deal in EMC-New York City office history.
Mr. Chartier earned his bachelor's of science degree in business administration and finance from the University of Rhode Island. He is currently a member of the Association for Corporate Growth.
"Chris's business acumen and experience working in the hedge fund sector is a tremendous asset to the growth of our business," says Richard Fleischman, President at RFA.
"Chris' proven leadership and extensive knowledge of the New York, Connecticut and the Boston financial markets will help accelerate our market growth in these strategically important regions and we are delighted to welcome him to the RFA team," says Don Previti, Director of Business Development at RFA.
To learn more about RFA's technology solutions, please visit the RFA Web site at http://www.rfa.com.
About Richard Fleischman & Associates (RFA)
Established in 1990 and headquartered in New York, NY, Richard Fleischman & Associates is a trusted advisor to over 400+ hedge funds, private equity funds and fund of funds globally, offering both turnkey IT solutions and on-site and remote monitoring staffed 24/7/365. As a full-service technology-outsourcing provider, RFA delivers expert service by its team of more than 130 expert IT consultants. RFA maintains a world-class data center in Purchase, NY, providing fully equipped office and trading desk space, disaster recovery and business continuity services. For more information, visit http://www.rfa.com or call 212.867.4600.
# # #