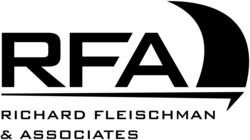 Cam is an accomplished professional with outstanding credentials and deep industry expertise across multiple business sectors
New York, NY (PRWEB) July 15, 2008
Richard Fleischman & Associates (RFA), a leading provider of technology and IT services and the trusted advisor to more than 400 hedge funds and private equity firms, today announced that Cameron "Cam" Floyd has joined the company as Director of Managed Business Services.
In this newly created role, Mr. Floyd will direct the development of RFA's luxury managed office business and high-end commercial property services and play a key role in RFA's future business development opportunities.
Mr. Floyd brings to RFA more than 12 year's experience in developing, marketing and managing business services in high-end commercial property environments and possesses a broad commercial acumen across multiple verticals.
Most recently, Mr. Floyd served as the Executive Vice President of North America at the Executive Office Group - Argyll, a luxury service office provider for Morgan Stanley Real Estate.
Mr. Floyd spent seven years in London, England as the Regional Business Development Manager at HQ Global Workplaces - now Executive Office Group. Earlier in his career, Mr. Floyd spent five years in Australia managing a national roll out of 300 high-end retail locations.
"Cam is an accomplished professional with outstanding credentials and deep industry expertise across multiple business sectors," says Don Previti, Director of Business Development at RFA. "His experience will be an essential component in adding long-term value to our growing global client base."
"Cam has a proven professional track record of success managing all phases of commercial property environments. His marketing and operational expertise, combined with solid voice and data technology knowledge, will greatly benefit RFA clients on many levels," adds Richard Fleischman, President of RFA .
To learn more about RFA's luxury managed office business services and technology solutions, please visit the RFA Web site at http://www.rfa.com
About Richard Fleischman & Associates (RFA)
Established in 1990 and headquartered in New York, NY, Richard Fleischman & Associates is a trusted advisor to over 400+ hedge funds, private equity funds and fund of funds globally, offering both turnkey IT solutions and on-site and remote monitoring staffed 24/7/365. As a full-service technology-outsourcing provider, RFA delivers expert service by its team of more than 130 expert IT consultants. RFA maintains a world-class data center in Purchase, NY, providing fully equipped office and trading desk space, disaster recovery and business continuity services. For more information, visit http://www.rfa.com or call 212.867.4600.
###