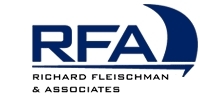 The cornerstone of establishing a compliance culture is a convergence of people, business processes and technology all working in a cohesive, systematic and repeatable way. -- Don Previti, RFA
New York, NY (PRWEB) March 16, 2010
Richard Fleischman & Associates (RFA), the premier provider of outsourced technology and IT services to more than 400 alternative asset firms representing over $100 billion in assets under management, is sharing its insight and analysis about areas of deficiency in risk assessment among hedge funds and alternative asset firms. This insight comes from a 12-month review of more than two dozen RFA Due Diligence Assessments™, the industry's most comprehensive risk assessment focusing on IT, business processes and compliance. The RFA Due Diligence Assessment analyzes an alternative asset firms' capabilities from an institutional investor's perspective, identifying compliance vulnerabilities and business process deficiencies and prioritizes remedies in anticipation of investor requests.
Despite increased scrutiny from investors and regulatory agencies, the RFA analysis found many areas of deficiency including:

business continuity planning in case of a disaster
IT policy and code of conduct (creation and enforcement)
IT security (i.e., password-protected work stations that preserve the confidentiality of client information)
Service Level Agreement (SLA) enforcement (including a lack of understanding/making assumptions about what they are supposed to be getting)
lack of high availability and redundancy inside their networks
RFA's Due Diligence Assessment is the alternative asset industry's most comprehensive risk analysis program thanks to the company's large client base of alternative asset firms. This daily, direct access enables RFA to have an unprecedented insider's view into the challenges in due diligence faced by Hedge Funds and other alternative asset firms in today's marketplace. In addition, the 20-plus years of experience of Dwayne Bethea, IT Compliance and Business Continuity Manager at RFA, with market-leading financial services firms such as Morgan Stanley, gives him extensive insight and expertise on what institutional investors are seeking in a Due Diligence Assessment.
Details of the RFA Due Diligence Assessment
The RFA Due Diligence Assessment is conducted in nine specific areas including IT operational risk, business continuity, disaster recovery and data and physical security. During the assessment, RFA due diligence specialists work with client management teams to identify critical business processes, vulnerabilities and inefficiencies and help them design a paper-based plan to continue business if a critical event occurs. RFA also helps the firms design a crisis management structure, providing them the means to quickly assemble key staff in order to make timely decisions in case of a business disruption. Once the assessment is complete, the results are compiled in a detailed risk registry for closure.
Don Previti, Director of Business Development at RFA and an invited panelist at the recent GAIM Ops Cayman conference, said, "Many clients have a challenge when determining where their compliance vulnerabilities and business process deficiencies are. The RFA Due Diligence Assessment looks at a firm's operational process from an institutional investor perspective. Then we deliver a comprehensive risk registry that clearly defines any deficiency. More importantly, the assessment becomes a baseline where known risks can be tracked and closed."
RFA's Due Diligence Assessment is an important step toward creating a culture of compliance within a company, a topic that Mr. Previti recently spoke about at GAIM Ops Cayman, a leading forum for operational due diligence, risk management and compliance for the alternative investment industry. He was part of a panel that discussed the necessity of creating a culture of compliance in order to preserve corporate reputation and investor trust to a gathering of more than 300 C-level executives from the leading U.S. investment firms. Mr. Previti noted that, "The cornerstone of establishing a compliance culture is a convergence of people, business processes and technology all working in a cohesive, systematic and repeatable way." The RFA due Diligence Assessment shows companies how to do just that, and reinforces RFA's reputation as a leading provider of flexible, reliable and expert solutions to the alternative asset industry.
RFA's Due Diligence Assessment is a complimentary offering to the company's client base of more than 400 alternative investment firms representing over $100 billion in assets under management. Since RFA began offering the assessment, over two dozen clients have taken advantage of the free service and demand is increasing.
Mr. Bethea added, "Although many firms see operating controls and compliance as a requirement for regulated entities, RFA views them as vital to the fabric of any organization. The ability to find, fix and manage operating risk is key to running a healthy organization. RFA has found that investors are not only looking for sound investment opportunities but also firms with sound operating practices."
About Richard Fleischman & Associates (RFA)
Established in 1990 and headquartered in New York, NY, Richard Fleischman & Associates is a trusted technology advisor to over 400+ firms specializing in private equity, alternative asset firms, offering both turnkey IT solutions and on-site and remote monitoring staffed 24/7/365. As a full-service technology-outsourcing provider, RFA delivers expert service by its team of more than 150 expert IT consultants. RFA maintains a world-class data center in Purchase, NY, providing fully equipped office and trading desk space, disaster recovery and business continuity services. It also operates Class A fully staffed offices in Boston. For more information, visit http://www.rfa.com or call 212.867.4600.
###