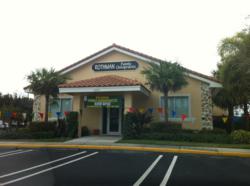 " Help Us Help The Children"
Boynton Beach, FL (PRWEB) January 18, 2013
On Saturday, February 2, 2013 from 11AM - 1 PM, Rothman Family Chiropractic will be having their Grand Opening and Ribbon Cutting Ceremony to celebrate the opening of their new location. Dr. Rothman has decided to raise much needed funds for the Oklahaven Children's Chiropractic Center during the event.
As a local Chiropractor, Dr. Rothman spends a lot of time both inside and outside the practice helping children. Each year she takes part in Oklahaven's Have A Heart Fundraising campaign in the month of February. It is for that reason she has decided to turn this monumental event for her practice into something that can benefit children with special needs and serious health problems who receive care at the center.
Dr. Rothman and local businesses will provide free food, a bounce house, face painting, free adjustments, free chair massages, gifts, valuable health information and a free raffle ticket to win an iPad Mini! Dr. Armand Rossi, who is a Chiropractor and international lecturer will be the guest speaker. Dr. Rothman is also a Zumba FitnessTM instructor so you can expect a free demo from her as well!
We are inviting area businesses to get involved and "Help Us Help the Children."
Dr. Rothman and Rothman Family Chiropractic are inviting all friends and neighbors to join them at this event. The Greater Boynton Beach Chamber Ribbon Cutting Ceremony will be at 11 AM.
Rothman Family Chiropractic is located at 399B Winchester Park Blvd, Boynton Beach, FL 33436. Please visit http://www.DrNicole.com for more information about the event and http://www.Chiropractic4kids.com for more information about Oklahaven. MM# 20965