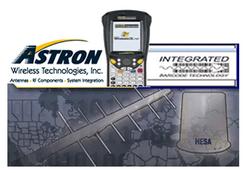 Capital has always been the stumbling block
Columbia, MD (PRWEB) August 30, 2007
Astron Wireless will be able to offer strategic marketing opportunities from its core customer base and offer RF engineering support to IBT customers. With vast co-marketing and co-branding opportunities, both companies can leverage each other's core capabilities for near and long-term growth.
"IBT's leading regional and New England presence provides a strong basis for an opportunity to expand nationally. In doing so, key bar code asset tracking and the burgeoning wireless RF ID markets will enable both entities to prosper leveraging off each other's core competencies. To say the least, we are very excited about the opportunities IBT brings to Astron," said James Jalbert, Chairman, President and CEO of Astron Wireless Technologies, Inc.
Tom Jackson, Founder of IBT will continue as Vice President of Sales. Mr. Jackson will be responsible for some day-to-day operations and play a key role in the expansion of the sales team nationally.
Kevin Holmboe, Director of Software Development and Tom Jackson have wanted to expand the business for a long time. "Capital has always been the stumbling block," says Jackson. "Astron Wireless gives us the opportunity to expand into areas we have only dreamed of while the synergies between the two companies should give us plenty of opportunity for growth. We look forward to a long and prosperous relationship."
About Astron Wireless Technologies, Inc.
Astron Wireless Technologies, Inc., is a Northern Virginia based global manufacturer of antenna, cable and connectivity products for a multitude of wireless communications applications for over 28 years.
About Integrated Barcoding Technologies, Inc.
Integrated Barcode Technology (IBT) is a leading systems integrator and added value reseller with a 16-year record of outstanding success. IBT specializes in the sale and installation of barcode, RF data collection and wireless RFID hardware, software, accessories and services. IBT will become a division of Astron Wireless and its headquarters will remain in Columbia, Maryland.
Please contact us for additional information by calling toll free: 877 567 7646, or e-mail us at jjalbert @ astronwireless.com
###