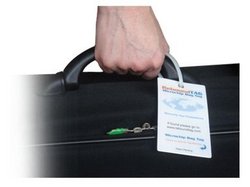 Lost luggage is a major anxiety for air travellers
Exeter, UK (PRWEB) July 27, 2009
Last year alone the number of items of luggage misplaced by airlines rose from 30 million to 42 million, an increase of 40%. In addition the amount of compensation received for a lost item of luggage is now often less than £15 unless receipts can be provided for everything that was in the lost bag.
ReboundTAG, a new UK startup has been working with help from IATA (International Air Transport Association) along with several airport systems developers to come up with a novel solution. By permanently attaching a microchip to a person's luggage it is possible to vastly reduce the chances of losing personal belongings. There is also a barcode and number printed on the Microchip Bag Tag to insure that they function in airports where there are no microchip readers; when the luggage is found the owner receives an email and an SMS (text) to their mobile phone immediately.
The Microchip Bag Tags are made using a patented military grade encapsulation so that they are as close as possible to being indestructible, and can be used as often as desired anywhere in the world. The tags do not contain the customer's details at all, but have a unique ID corresponding to a private database. The Microchip Bag Tag also includes a second microchip that allows the most modern airports to encode your flight data onto the tag whenever you fly. The product is targeted at all air travellers that do not want to lose their luggage, and also companies that employ frequent flyers.
"Lost luggage is a major anxiety for air travellers," said Managing Director, Max Rangeley, "by microchipping your luggage you are taking the same precautions with your possessions that you do with your pets." Researchers such as InsureandGo have repeatedly stated that travellers should not rely on the airport paper tags because they can become detached so easily. The Microchip Bag Tag costs £19.99 (about $30) and includes three years membership, during which it can be used as often as desired.
If the luggage is found outside an airport the finder cannot see the owner's details and can only send him or her SMS (text) and email messages through the ReboundTAG system. All the finder has to do is follow the instructions printed on the tag to go to http://www.reboundtag.com and click "I've Found Something". The owner of the tag can also keep their tag anonymous so that when the airlines find it they can only send them SMS and email messages and do not see their details.
"Bag loss is part of my business life unfortunately" Malcolm Hannaford, a radio engineer who is frequent overseas flyer with his business, commented, "I need to take tools and radio equipment with me when I travel. Neither of these items can be taken on flights as cabin baggage since the increase of security checks. Knowing that the bags are clearly identified gives me peace of mind that when the bags are mislaid by the airport they can be found quicker. Last year my partner's luggage was lost by a major airline, not only did it wreck our holiday but she lost some jewellery given to her by her Grandmother."
More than 20 airports have implemented microchip systems and many more airports have microchip readers; those that do not can simply use the barcode or number printed on the Microchip Bag Tag for identification.
Notes
Website: http://www.reboundtag.com/ , also see FAQ http://reboundtag.com/faq.html
Please email or call for further photos, information or an interview.
About ReboundTAG Ltd
ReboundTAG uses modern microchip technology to make sure your possessions do not get lost. The engineers at ReboundTAG have worked with many of the top microchip and airport developers in the world to design systems specifically for ease of use for the modern citizen. By making some of the world's most cutting edge-technology available for use by the public ReboundTAG is opening up a new avenue for RFID (Radio Frequency Identification) technology.
###