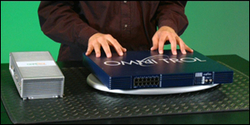 Put all of these features together, and you can have a powerful distributed intelligent sensor network up and running in an afternoon. And it works flawlessly—we know, we tested it.
Santa Clara, CA (PRWEB) April 21, 2010
The Omnitrol Networks solution allows sensors from various technologies to be choreographed together using real-time business logic executed right on the shop-floor, and includes:

device-agnostic support for RFID readers, printers and encoders, Real-Time Location Services (RTLS), PLC controls, digital and analog sensors, and metering and operator feedback devices;
integration with commercial databases, ERP and other back-ends;
a secure distributed smart-agent software framework;
a built-in service creation and sensor emulation environment for rapid delivery of business intelligent applications.
"Put all of these features together, and you can have a powerful distributed intelligent sensor network up and running in an afternoon. And it works flawlessly—we know, we tested it. We also found that the Omnitrol Networks peer-to-peer software architecture accelerates the transition from a small pilot to full-scale distributed deployment without incurring the hidden costs of other solutions," explained Sirico.
"This new world of sensors enables a whole new paradigm in value-added automation and visibility that can be successfully delivered through a versatile programmable service-oriented network appliance," said Omnitrol Networks CEO Raj Saksena in the book Thin Air. "One which connects any device to the network, allowing instant visibility and control. With such an appliance, a PLC controller or RFID reader plugs into the infrastructure in minutes, versus weeks."
The RFID.net awards are the only industry awards based on scientifically repeatable tests of real-world scenarios and not on surveys or opinion results alone. Products given the RFID.net Best-in-Class award have been rigorously tested and carefully evaluated by experts in RFID technology. The Best-in-Class products rank higher than competitor products in 85% or more of evaluation criteria. As Sirico describes it: "a Best-in-Class product typically changes the competitive landscape, either through innovative features, evolutionary design, or exceptional value for the price, and provides a significant increase in productivity." RFID.net evaluates products in several classes, including intelligent sensor networks, RFID portals, RFID-enabled lift trucks, hand-held RFID readers, automated asset tracking, and other sensor-based technology solutions. To see the RFID.net Best-in-Class list, visit: http://rfid.net/reviews/best-of-the-best.
For Additional Information:

About Omnitrol Networks
Omnitrol Networks is the industry's first end-to-end solution delivering real-time collaborative supply-chain. Using predictive analytics directly from shop-floor operations, the OMNITROL solution enables real-time operational and supply intelligence in the aerospace & defense, food, retail and logistics markets. The OMNITROL solution automates real-time visibility into operations through digital sensors, RF and Wi-Fi technologies. Omnitrol Networks Inc. is a privately held company with corporate headquarters in Santa Clara, California, USA. Additional information about Omnitrol Networks' products and services are available at http://www.omnitrol.com.
About The RFID Network
The RFID Network is a an authoritative resource for in-depth articles, videos, product reviews and benchmarks on wireless RF sensor technology (Radio Frequency Identification / RFID, Real Time Location Systems / RTLS, ZigBee), including RFID tag chip circuits, RFID tags, RFID system design, RFID tracking, RFID security, RFID standards & regulations. Its syndicated distribution reaches an audience of nearly 4 million. Join the RFID Network at http://rfid.net.
###