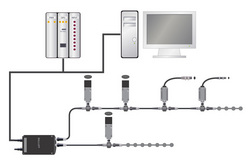 Florence, KY (Vocus) April 28, 2009
Balluff's new Easy Loop™ system is the right solution to provide 100% reliable tracking of parts on pallets, totes, or in bins in many conveying applications. With multiple versions of read head hardware options, and read distances of up to 50mm, the ID values on the Easy ID™ tags can be used to track the location of the part or product bins and totes in and out of storage and retrieval systems or in production line applications, providing high process visibility. Connecting and interfacing Easy Loop products is simple with a single cable for power and communication and standard interfaces like RS-232, RS-422, or even Ethernet TCP-IP for fast and flexible communication options.
Balluff's extensive line of Easy Loop read-only RFID systems are designed to provide absolute data reliability and environmental ruggedness not found in Bar Code systems. Bar Code based pallet or process tracking systems are not suitable for many industrial manufacturing environments. Bar Codes are optical based in nature and are vulnerable to damage and interference, reducing the reliability in some cases to less then 90%.
By using the Balluff Easy Loop system in the manufacturing process, pallets carrying parts from one manufacturing or assembly station to the next can be tracked without the use of unreliable bar code methods. This allows error-proofing to be implemented in any production environment - even the largest production process can implement cost effective RFID tracking. With multiple communication interface choices, Easy Loop provides the right interface for your control and tracking infrastructure, including deterministic response capability. Easy Loop products also offer flexible read head options to make mounting flexible and simple, even when replacing bar code systems in retrofit applications.
Benefits to using Easy Loop RFID include:

100% data reliability, unlike other methods such as bar coding
Significantly increased visibility and control of your process
Process error proofing to reduce or eliminate errors
Reduction of costly mistakes and rework
Faster return on your investment compared to unreliable bar codes
Easy ID read-only systems are ideal when only tracking is required and when data can be stored centrally in the control system. The process is tracked by reading the reference or ID data like a license plate from the RFID tag, then using that ID data to connect and reference additional data in the central controller like assembly, test data and other information from the process. The details of each step in manufacturing are then connected to provide maximum visibility to the process.
For further information, visit: http://www.balluff.com/easyloop
Download high resolution press images and see full press release online:
http://www.balluff.com/Balluff/us/NewsChannel/Press+Releases/en/Balluff+introduces+Easy+Loop+RFID+system
Balluff Inc., the U.S. subsidiary of Balluff GmbH, Neuhausen, Germany, is a leading manufacturer of a wide range of inductive, optical, capacitive and magnetic sensors as well as linear position transducers and ID systems. Balluff products for OEM and factory floor solutions are used to control, regulate, automate, assemble, position, and monitor manufacturing, assembly, and packaging sequences for industries including metalworking, automotive, plastics, material handling, wood processing, aerospace, electrical, and electronics.
###