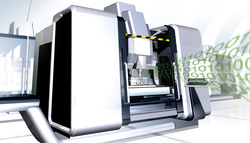 Florence, KY (Vocus) April 21, 2009
Automatic tool identification with Balluff's industrial RFID systems provides a quantum leap over risky manual or barcode-based tool ID and tracking methods. RFID based automatic tool identification, tracking, and management can provide significant cost savings and a return on investment (ROI) in as fast as 6 months. Tool ID replaces the unreliable method of manually transferring and entering tool data between Presetter and machining center. These systems ensure greatest possible tool utilization, less inventory, highest efficiency and minimal machine downtime, and significant reduction in scrap with maximum, consistent quality.
Greatest Utilization
Tools always carry their individual data with them like a pedigree so they can be optimally used and managed. With Industrial RFID tags embedded in the tool holder, tools are optimally utilized by ensuring precise, up-to-date tool life information and accurate transferring tool offset data between Presetter, machine, tool crib, etc. The nominal/actual wear is accurately logged and maintained with the tool and can be kept in a tool database which allows continuous, automatic monitoring and in turn maximum tool utilization.
Highest efficiency and minimal machine downtime
Balluff's tool ID systems provide complete tool data with extreme reliability, without physical contact, making them virtually maintenance-free. Information such as tool pocket location can be recalled at any time, even after removal from the tool magazine, since the information is always located on the tool itself. This data is never lost, since paper and labels have been eliminated. While locating or replacing a tool, the tool data is sent electronically, avoiding the unreliable and error-prone method manually typing the data into the machine center that can cause tool underutilization or even machine center damage. With the automation of tool data entry, machine uptime can be significantly improved, maximizing operation up-time.
Significant reduction in scrap with maximum, consistent quality
Balluff's Industrial RFID is extremely reliable in storing and transferring complete tool information. This means nominal tool life or wear of the tools cannot be inadvertently exceeded, which would negatively affect quality. With automatic tool ID, incorrect manually entered data that can cause expensive tool crashes, broken tools or spindles, setup errors, and bad quality parts can be eliminated, significantly reducing scrap, while increasing machine uptime.
Less inventory
Balluff Industrial RFID based tool ID systems provide the analysis data which is indispensable for exact cost calculations and inventory control. A tool's life can be accurately predicted for a customer's individual application and inventory can be maintained on a just in time basis. This allows for better forecasting while significantly lowering overhead tool costs.
See your savings potential by using the simple Balluff Tool ID return on investment (ROI) calculator at: http://www.balluff.com/tool-id
Editors: Please use this link for attribution:
For further information, visit: http://www.balluff.com/tool-id
Download high resolution press images and see full press release online:
http://www.balluff.com/Balluff/us/NewsChannel/Press+Releases/en/2009-04+Tool+ID+PR.htm
Balluff Inc., the U.S. subsidiary of Balluff GmbH, Neuhausen, Germany, is a leading manufacturer of a wide range of inductive, optical, capacitive and magnetic sensors as well as linear position transducers and ID systems. Balluff products for OEM and factory floor solutions are used to control, regulate, automate, assemble, position, and monitor manufacturing, assembly, and packaging sequences for industries including metalworking, automotive, plastics, material handling, wood processing, aerospace, electrical, and electronics.
Editors: please contact Vestal Simms or Kelly Panko at 1-800-543-8390 for clarifications and additional information, or e-mail vestal.simms(at)balluff.com, kelly.panko(at)balluff.com
Direct reader service inquiries to:
Press Manager
Balluff Inc.
8125 Holton Drive
Florence, KY 41042
1.800.543.8390
http://www.balluff.com
In Canada only, contact Norman J. Clarke, President, Balluff Canada, 2840 Argentia Road, Unit # 2, Mississauga, ON L5N 8G4, Phone 1-800-927-9654 or
Tel: 905-816-1494, 905-816-1411, E-mail: balluff.canada(at)balluff.ca
###