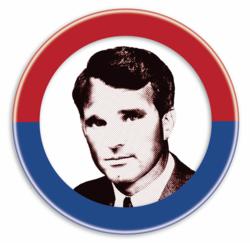 Only those who dare to fail greatly can ever achieve greatly.
-- Robert F. Kennedy
Washington, D.C. (PRWEB) February 21, 2013
New City Stage Company opened the Philadelphia of "RFK" by Jack Holmes in Philadelphia in October 2012 and then extended the show into November after 18 straight sold-out houses. The hot play will receive 2 more productions by New City Stage in 2013, including one in Washington, D.C.
Arguably the highest rated play performed in the greater Philadelphia area this past fall, it has received rave reviews and was attended by playwright Jack Holmes as well as many local politicians and friends of the Kennedy family.
New City Stage Company will present the show as part of the Capital Fringe Festival, July 11 - 28, 2013, in Washington, D.C. Tickets go on sale June 17 and can be purchased here or by calling 866-811-4111
In honor of President John F. Kennedy and the 50th anniversary of his untimely assassination, New City Stage Company will also present the show as part of their 2013-14 season. The show runs October 31 -- November 24, 2013 at the Adrienne Theatre. Tickets are already on sale and can be purchased by clicking here or calling 215-563-7500.
There will be a special guest speaker on Friday, November 22, 2012, 50 years to the day of the tragedy in Dallas, Texas. There are 2 performances that day, including one that starts at 2 PM, exactly 50 years after President Kennedy passed away on that fatal day. These are fundraising performances and tickets are $50, including reception with our special guest speaker after both performances. More information about these performances coming in April.
New City Stage Company's 2013-14 season, entitled "The Quest for the American Presidency," will focus on controversial and groundbreaking American politicians.
.
Read what the press has been said thus far about this landmark production:
Philadelphia Inquirer:
"The history play RFK is special in several ways... it's exceptionally well performed by Russ Widdall... and like many single-character shows, shifts back and forth in time, but does so with grace and electricity."
Broad Street Review:
"Russ Widdall's performance is a tour de force that must rank among the best of the past several seasons. Clear credit also goes to director Ginger Dayle."
Philadelphia City Paper:
"RFK will be self-recommending to many people, but I hope some younger audiences get there, too. The show — and RFK himself — deserves it. "
Stage Magazine:
"Regardless of your politics, party affiliation, or age, you should appreciate the extraordinary quality of Widdall's acting... what a performance!"
ABOUT THE SHOW:
"RFK" begins in 1964 when President Johnson decided not to ask Senator Kennedy to be his running mate up until RFK's untimely assassination during the 1968 presidential election. It also includes background information on his personal life as well as his relationships with brother President John F. Kennedy, sister-in-law Jacqueline Kennedy, Reverend Martin Luther King, Jr. and FBI Director J. Edgar Hoover.
This historically accurate play features music and film footage from the era -- all compiled exclusively by New City Stage Company for this new production.
Film and television actor Russ Widdall, of HBO's "The Wire," portrays Robert F. Kennedy in this one-man tour de force show.
The show is directed by Ginger Dayle, Artistic director of New City Stage Company and a well-established actress, choreographer and dancer. She can be seen as a featured dancer in the second season of NBC's "Smash" and teaches master classes at many well-known conservatories and studios, including the Rock School for Dance Education in Philadelphia and Broadway Dance Center in New York City. She will also appear in Adam Rapp's "American Sligo" in June 2013.
About New City Stage Company:
New City Stage Company, founded in 2006, is dedicated to presenting high quality professional theatre that engages audiences on a variety of levels; not only entertaining them but also encouraging awareness of issues relevant to the community. We draw our season from contemporary and classical works, with a special focus on including Philadelphia premiers from playwrights whose work and stories are not normally found in the region.