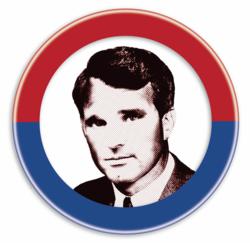 No one does socio-political theater like New City Stage, according to Stage Magazine
Philadelphia, PA (PRWEB) September 30, 2012
Philadelphia Magazine recommends New City Stage Company's production of "RFK" as the show to see this fall.
Directly from the Philadelphia Magazine article:
Philadelphia stage veteran Russ Widdall, whom you'll recognize form HBO's "The Wire", stars as the ill-fated senator in New City Stage's Philadelphia premiere of this historically comprehensive one-man show.
ABOUT THE SHOW
New City Stage Company is thrilled to present the Philadelphia premiere of "RFK" by Jack Holmes this fall, October 3 -- 21, 2012 at the Adrienne Theatre Second Stage and 2 additional benefit performances on November 4 & 5 at the Playground at the Adrienne. Just in time for election season! This play is a historically accurate solo performance which biographies the last 4 years of politician Robert F. Kennedy's life, from 1964 to 1968, and features music, film and footage from the era. Tickets go on sale to the general public August 15. Information is available at http://www.NewCityStage.org and by calling (215) 563-7500.
Click here to purchase tickets.