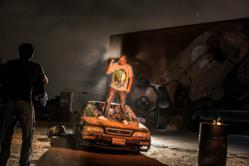 The completed video has great music, incredible images, and live effects; it was an exciting experience
Rudy Gonzalez (Rudy G)
RG Recordings President and Co-Producer of the Beast Within
Los Angeles, California (PRWEB) June 04, 2013
When Rudy Gonzalez (RudyG) from RG Recordings signed Jesse J (Jesse Jacinto), a well known local rapper from Windsor, California, they immediately began collaborating on their first album.
Today, they are announcing the premiere of their music video for the first single "Beast Within".
The finished music video premiere is June 4, 2013 followed by the release of their first mixtape entitled "101 Northbound" on June 7, 2013.
"The completed video has great music, incredible images, and live effects; it was an exciting experience," said RudyG.
It was shot with a state-of-the-art "Red Camera" at Zynderia Studios and on location in Downtown Los Angeles. It features the talents of co-producers Marco De Molina and RudyG. The video was directed by JB Adkins.
In addition to the premiere of the music video this week, Jesse J, aka the "West Kept Secret", will be performing at Club Maverick's, 397 Aviation Boulevard Santa Rosa, California the night of June 7, 2013. Jesse J's live shows are best known for their punch and emotion. Their new clothing line as well as the new music will be introduced.
"I'm looking forward to all of this work coming together this week", said Jesse J. His Motto "Work, Hustle, Kill Everything" seems to be the focus for these projects to create one very determined, hard working new artist.
About RG Recordings:
Owner/ Producer Rudy "RudyG" Gonzalez combines his appreciation for Hip Hop, Motown, Electronica and Rock as he creates music, video & clothing with his artists. Their motto: "Nothing Less than Greatness" is the driving force in all they do. The studio, located in Los Angeles strives to achieve this in all of their productions.
About Zynderia Studios:
Though only around since 2012. Zynderia has already made a mark in the industry with dozens of motion pictures, many music videos, and other productions. (Busta Rhymes, Playboy, Xzibit, Ocho Cinco as well as Jesse J, are just a few of the current artists). They welcome all kinds of projects with their motto "Everything is Possible"