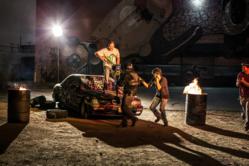 I'm looking forward to all of this work coming together in the next week, My Motto, "Work, Hustle & Kill Everything" seems to be the focus for these projects ...
Jesse J
Los Angeles, California (PRWEB) June 01, 2013
When producer, owner Rudy Gonzalez (RudyG) created RG Recordings no one knew that so many talented artists would find their way to the new studio as quickly as they did.
Jesse Jacinto, aka Jesse J, a well known rapper from Windsor, California, was introduced to RG Recordings and signed with them right away.
Producer RudyG and Jesse J began collaborating on their first album as soon as they could. As part of their initial work together, they are about to release the music video for the first cut "Beast Within" and as of today (see video in release) have already completed the Behind the Scenes version.
"The finished music video is set to premiere June 3rd, 2013, entitled "Beast Within" followed by the release of their first mixtape "101 Northbound" on June 7, 2013.
Jesse J, the "West Kept Secret", will be performing at Club Mavericks, 397 Aviation Boulevard in Santa Rosa, California the night of June 7, 2013. Jesse J's live shows are known for their punch and emotional delivery. A new clothing line as well as the new music will be introduced."
"I'm looking forward to all of this work coming together in the next week", said Jesse J . His motto "Work, Hustle & Kill Everything" seems to be the focus for these projects and one very determined, hard working new artist.
About RG Recordings
Owner, Producer Rudy Gonzalez combines his appreciation for Hip Hop, Motown, Electronica and Rock as he creates music, video and clothing with his artists.
Their motto is: "Nothing Less than Greatness".The studio, located in Los Angeles strives to achieve this in all of their productions.