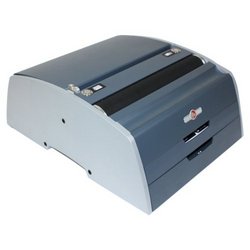 Hillsboro, OR (PRWEB) April 20, 2009
MyBinding.com announced today, a new lower price for the Rhin-O-Tuff Pro Series 3250CL spiral coil binding machine. Previously priced at $1,995, the new price point of $1,699 for the 3250CL is designed to make it more competitive with electric coil binding systems from manufacturers such as Akiles and Digital Finishing Group. This new, more competitive price is the result of many months of discussions between MyBinding.com and Performance Design Inc. who manufactures this unit at their factory in Boise, Idaho.
The 3250CL is the newest offering from Performance Design LLC. who produces the entire line of Rhin-O-Tuff binding equipment. The Rhino Tuff name has long been recognized as one of the industry's leading manufacturers of heavy duty table top punches, color coil inserters, twin loop wire closers and plastic comb openers. In fact, they are well known throughout the world for producing the strongest and most durable desktop binding equipment available on the market. For this reason, a large number of printers, binderies and print for pay organizations utilize Rhin-O-Tuff binding equipment.
In 2008, Performance Design Inc. made the decision to use their expertise in building heavy duty industrial desktop binding equipment to design a coil binding machine for professional office users. The goal was to produce an easy to use binding solution that would fit inside a contemporary office environment. In order to accomplish this goal, PDI contracted with a product designer from Hewlett Packard to help them create a machine that looked more like a desktop printer than an industrial binding machine. The resulting machine was the new Pro Series 3250CL electric coil binding system.
The 3250CL is an ideal fit for the office environment. If offers a heavy duty, 25 page punching capacity and easy to use coil inserter. Recognizing that most offices have more than one person who needs to bind documents, the 3250-CL was designed to be easy to operate. Unlike other punches, this machine requires absolutely no set up and is ready to punch and bind out of the box. The machine even includes step by step diagrams to help inexperienced users. These easy to follow directions are posted inside a drawer on the front of the machine and are easy enough to understand that a user who has never used a coil binding machine can produce a high quality bound document in just minutes.
The design offered by the 3250CL also offers several other features that help to set it apart from its competition. It is backed by an incredible 3 year manufacturer's warranty on the machine and a one year warranty on the punching dies. Most other manufacturers will not warranty their dies at all. The 3250 CL is manufactured in the United States to exacting specifications. This allows Rhin-O-Tuff to provide a superior warranty when compared to other coil binding equipment that is manufactured in China.
MyBinding.com (a division of Information Management Services, LLC) has been selected as a key distributor for the new 3250CL and for the entire line of Rhin-O-Tuff brand punches and binding equipment. They are one of the largest binding equipment dealers in the nation with more than 50,000 customers in the United States alone. This vast customer base and increased buying power allows them to pass exceptional deals onto their customers and to offer lower prices on equipment such as the Rhin-O-Tuff Pro Series 3250CL.
###