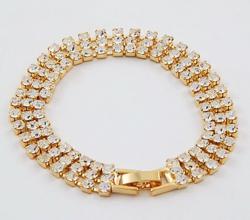 designed with a distinctive upscale look to compliment any wardrobe ensemble from silk to denim, daytime or evening
Glenview, IL (PRWEB) November 15, 2012
This classic bracelet is a must-have for any jewelry collection. Perfect for adding a little sparkle and glamour by itself or paired with other jewelry. Beautifully designed it's 7 inches long and 3/8 inches wide with an easy-clasp closure. Very comfortable against the skin, light weight, with hand-set faceted genuine clear Rhinestone crystals that gives a fabulous diamond look. Beautifully crafted with flexible Goldtone linkage and closure commands attention.
"Gives a distinctive upscale look to any wardrobe ensemble from silk to denim, daytime or evening." said Marianne Crabtree, Creative Director of Great Ideas Group, Inc., a leading online retailer of fine fashion jewelry.
"Gals of all ages will appreciate having such a beautiful addition to their jewelry collection. The perfect gift for Christmas, special occasion, birthday, anniversary, new mom, graduation, or just because. Customer feedback tells us that our bracelets are fun to wear. Bracelets are perfect coordinates to add to one's jewelry collection or as a gift. Our entire line of products arrive beautifully gift wrapped", adds Crabtree.
Great Ideas Group offers many different types of fashion jewelry including our Keepsake pocket heart love coins, cufflinks, charm bracelets, necklaces, brooches and special occasion gifts.
To learn more about our line of Bracelets, or to browse our selection of fashion jewelry, please visit http://justaboutlove.com/rhinestonebracelet.html