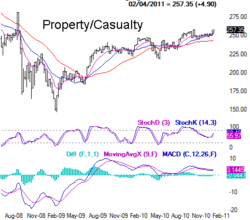 Chubb Corporation - which is already on our watchlist - is making good progress, and isn't bad looking with a single-digit P/E ratio and a few earnings beats under its belt. Allstate, however, looks to be one that could explode
San Diego, CA (Vocus/PRWEB) February 09, 2011
Insurance stocks like Berkshire (BRK) and Chubb Corporation (CB) are hinting of superior strength in the near-term, but small cap insurance company The Hanover Insurance Group may be poised to lead this charge, according to James Brumley, Chief Analyst of The Rhino Report. In the latest edition, Brumley named the insurance industry's stocks, including Allstate (ALL) and Chubb Corp. (CB), as compelling buys right now based on budding technical strength.
"Chubb Corporation - which is already on our watchlist (and that's no coincidence) - is making good progress, and isn't bad looking with a single-digit P/E ratio and a few earnings beats under its belt. Allstate, however, looks to be the one that could explode against the backdrop of an EPS of $3.23 this year and a forecasted $3.88 next year" he noted in Tuesday's report.
At the same time, Brumley suggested that gold's recent rally has been stronger than merited, and that a dangerous pullback is on the way, equating it to the tech bubble in the late 90's that was only advanced because of euphoric investors "buying first and asking questions later."
At the core of Tuesday's gold tension was the fact that JP Morgan announced gold could be used as loan collateral now, whereas before only stocks or treasury bonds would be acceptable.
The Rhino Report portfolio is about half as exposed to the market as usual, as Brumley anticipates a pullback soon. To defend against the full brunt of any dip, the portfolio's size has been cut down to about tens stocks from a normal twenty. The result is about a 50% cash position. Though a near-term downside/bearish trade that will act as a hedge is on the radar, it has not yet been put into the official Rhino portfolio.
Brumley feels the insurance group, and the property/casualty insurers in particular, may be best suited to stave off the ill effects of a marketwide correction. But, either way he's bullish on most of the well-founded names in the category. To learn more about these outlooks and other stock in the current portfolio, go to the Rhino Report web site located at: http://www.rhinoreport.com for more information.
About The Rhino Report
The Rhino Report is a complete solution providing investors and traders with disciplined short-term and long-term market calls, as well as specific stock recommendations from a proven proprietary system that incorporates both fundamental and technical analysis. Its reliable and timely investment newsletters are delivered during trading hours, allowing investors and traders the necessary time to act before anyone else.
Members receive in-depth sector analysis to help them identify current hot spots in the market and comprehensive economic analysis to determine forward-looking market trends and sentiment. The Rhino Report also provides its Member with password protected access to an exclusive Member Login area to view specific stock recommendations, portfolio performance, report archives and much more.
The Rhino Report provides a whole look at the equity markets and explains in detail how one can generate maximum returns with minimal risk exposure. Investors are encouraged to visit The Rhino Report at: http://www.rhinoreport.com for more information on its advisory services and how to become a Member.
Contact:
James Brumley
The Rhino Report
619-352-0394
Source: The Rhino Report
# # #