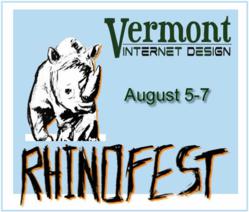 The Real Vermont Continues To Exist
Marshfield,VT (PRWEB) May 07, 2011
In August in Plainfield, VT is one of the greatest events of the summer. Ryan Christiansen of Local Potion in Plainfield, VT is putting on the 4th annual Rhinofest (http://www.rhinofestvt.com).
"I see Rhino Tracks in my back lawn," Ryan posted on his Facebook page. The Rhinofest is an event where people get together and have a good time. The Rhinofest is a very diverse festival and there is a little something for everyone.
John Anderson of Vermont Internet Design LLC ( http://www.vermontinternetdesign.com ) is a website developer and advertiser in the area.
"I went to the Rhinofest last year, and had more fun than I have had in 15 years. It's good to see that there are people here who make sure that the real Vermont continues to exist. Ryan puts a lot of work into this event to make sure that everyone has a good time," John says. " I think that people should understand what Ryan has created, anything I can do to make sure that he has what he needs. I will do. So should anyone else who wants to be a part of something that could possibly begin the transformation of a generation."
Vermont Internet Design said today that they intend on sponsoring the Rhinofest this year and in years to come.
"I know talent when I see it, there are some thing's that just have the potential of becoming huge. I can see the Rhinofest doing big things in the future. Anything that we can do to contribute to bring Vermont back to the way it was 15 years ago we will do." John Explains "I grew up in Vermont, 15 years ago it was a much better place than it has been. However, I am starting to see the old Vermont make a big comeback. I remember back in those days we used to go to phish shows and have a great time.".
Vermont has been having more and more issues with budget cuts and prison over crowding. It has less and fewer community sponsored events.Events like Rhinofest are a great thing for people to look forward to each year. They allow people to get together. Over the years people have become more isolated, and avoid socializing whenever possible. Events like Rhinofest encourage positive social encounters, in an accepting envoirnment, where no one is there to judge anyone.
"The only requirement of going to the Rhinofest is that you must have a good time." John Laughs " nobody cares what you do at the Rhinofest. The vibe that I got from the Rhinofest, was a very powerful one. Just be respectful of everyone and nobody cares what you do.".
"Events like this bring people together. We all can get along and have a good time without any problems. I think that this is a great opportunity for my company to contribute to into something positive. I've done my homework on this issue, consulted with my associates, and decided Rhinofest is something we want to get involved with. We believe that it can provide great value to the community. " John goes on " The value in this for my company is exposure to my brand. It makes people aware of who we are. We love sponsering events like this. We believe pooling the talents will provide a great benifit for everyone."
"We love Vermont and want to make it into a prosperous place. Someday, I would like to see something like the Rhinofest bringing 50,000 people into my backyard. It brings needed revenue into the local community. I want to have people like Eminem, TI, Avril Lavigine, Phish, coming to Vermont. It could bring millions of extra dollars into the local community, every year. I think that if Vermont Internet Design starts working with the Rhinofest, we can pool our resources, and one day make that a reality. We don't expect this to be a one time thing. We want to continue to contribute. My simple logic is, if you don't start, how will you ever finish. If you want to go somewhere, you start heading in the direction you want to go."
"I've entertained Ryan with a few of my ideas. My ideas are always big because I am a go getter. I have the feeling that Ryan can understand where I am coming from. It's hard to find people who understand the purpose of doing certain things. A lot of the time people don't take me seriously because they think. I am too far fetched. They are right in a sense, I am a dreamer. However, what they are forgetting is that it's not a dream it's a reality. People with big plans do big things. There are some people who say they are going to do something than don't stop until they do it. Ryan is one of those people who we believe can go places. Any piece of the action we can get on a project with Ryan, we will gladly take."
Rhinofest Music Festival is only selling 2,000 exclusive tickets. You should be able to pre order your tickets soon. However, there will be tickets for sale at the gate. Bring your Tents, Glow sticks, hacky sack, and cooler full of beer. The Rhino has been through here.
Ryan says this years line up will be posted soon on their website ( http://www.rhinofestvt.com ).
"We would like to get our hands on Ryan's Website. We can use it to provide great value to the sponsors and artists of Rhinofest." John Adds " Everything is all part of a bigger picture. That bigger picture involves a colaborative effort. Sometimes you can see a void in something. If I can see a place where I can turn a void into an area of growth, than I will go out of my way to be the first person filling that void. Having relationships with people like Ryan allows my company to introduce some creative advertising solutions to clients. As well as facilitate introductions that may be valueble.".
Vermont Internet Design LLC is a web development company located in Marshfield, VT. They specialize in providing custom web solutions for professional clients and investors.
This company was incorporated in the state of Vermont in April of 2006. They have a will to produce results, with the knowledge to get done challenging projects. Their projects include, development of content management systems, e-commerce systems, iPhone, Windows phone and Android development services.
###