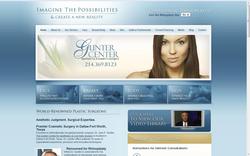 Dallas, TX (Vocus) February 19, 2010
From March 5th through March 7th, plastic surgeons, residents, and doctors from across the globe will converge at the Westin Galleria in Dallas, Texas to learn some of the latest techniques in rhinoplasty and nasal surgery from some of the most respected physicians in the field. The 27th Annual Dallas Rhinoplasty Symposium is an event co-chaired by prolific rhinoplasty surgeons Dr. Jack Gunter and Dr. Rod J. Rohrich. Co-authors of the medical textbook, Dallas Rhinoplasty: Nasal Surgery by the Masters, Dr. Gunter and Dr. Rohrich are known as two leaders in the field of nasal surgery. In the 1980's, they worked with other plastic surgeons to develop this yearly meeting designed to bring together medical professionals for a series of presentations on the latest advances in rhinoplasty, as well as to discuss emerging trends and controversies in this highly specialized medical field.
The Symposium will include several seminars on specific topics, panel discussions, and Q & A sessions with the aim of giving physicians the tools they need to perform rhinoplasty procedures that result in the best functional and aesthetic outcome possible. Dr. Jack Gunter says the Symposium will take medical professionals through a series of steps, from the basics of nasal surgery through to the latest advancements and techniques. Attendees will observe open and closed rhinoplasty procedures being performed by experienced plastic surgeons via video feed, and be able to interact and question the surgeons regarding the procedure. Dr. Gunter says the Rhinoplasty Symposium has been a great success for the last 26 years, and is helpful for visiting surgeons to hone their own techniques - including identifying problems in nasal anatomy, performing basic rhinoplasty maneuvers, and utilizing new and different techniques for each specific rhinoplasty case.
The three-day Dallas Rhinoplasty Symposium is hosted by the UT Southwestern Medical Center Department of Plastic Surgery, and will begin the day after the Dallas Cosmetic Surgery Symposium at the Westin Galleria.
For more information on the 27th Annual Dallas Rhinoplasty Symposium, please visit http://www.dallasrhinoplastysymposium.com.
###