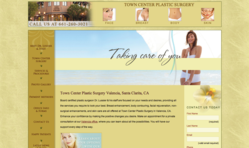 Los Angeles, CA (PRWEB) December 01, 2011
At his Los Angeles plastic surgery practice, Dr. Marc Lussier says rhinoplasty is one of the most commonly sought-after procedures. The American Society of Plastic Surgeons (ASPS) confirms his observations in its latest study, reporting that plastic surgeons performed 252,261 rhinoplasty procedures last year. According to the ASPS statistics, rhinoplasty was the second most popular procedure performed in 2010, behind only breast augmentation. Dr. Lussier says rhinoplasty in Los Angeles has become increasingly popular as surgeons continue to perfect the difficult and complex procedure.
Dr. Lussier says the nose acts as a complex facial component, projecting subtle character and personality in a person's features by lifting visual focus to their eyes. When a patient is unsatisfied with the appearance of his or her nose due to either trauma or natural evolution, he says rhinoplasty can offer a beneficial solution that leaves minimal to no scarring. Through specific and personalized insight into the problem from both the surgeon and the patient, Dr. Lussier also says rhinoplasty can provide a harmonious complement to a person's natural facial structure. By altering the nasal structure, he adds that surgeons can restore harmony and balance to a patient's face.
Because of the intricacy and technical nature of the procedure, Dr. Lussier also says rhinoplasty requires an experienced and qualified surgeon for the best outcome. He adds that consulting with a board-certified plastic surgeon can help ensure the desired results are achieved, ultimately leading to patient satisfaction and paving the way for renewed self confidence. He says one of the most important attributes to look for in a board-certified surgeon is a dedicated and caring staff, focused on the patient's individual needs.
About Marc Lussier, MD
Dr. Marc Lussier graduated from Carleton College in Northfield, MN with a B.A. in Chemistry and attended the University of Minnesota School of Medicine. He completed his general surgery training at the New York University Medical Center, his plastic surgery residency at Baylor College of Medicine, and a hand microsurgery fellowship at the University of Southern California. He has extensive education in aesthetic, hand, and general reconstructive surgeries, including training at a Rhinoplasty Symposium at Southwestern Medical Center in Dallas, TX. He is board-certified by the American Board of Plastic Surgery, and is a Fellow of the American College of Surgeons. Dr. Lussier is also a member of the American Society of Plastic Surgeons, the American Society of Aesthetic Plastic Surgery, and several other professional organizations.
About the American Society of Plastic Surgeons (ASPS)
Founded in 1931, the ASPS is the largest plastic surgery specialty organization in the world, composed of board-certified surgeons dedicated to advancing quality care through high standards of training, ethics, physician practice, and research. The society maintains rigid requirements of surgeon certification and surgical facility quality. ASPS publications include numerous informational brochures and a detailed online resource designed to educate the public about plastic surgery.
Located at 24510 Town Center Drive, Suite 180 in Valencia, CA, Dr. Lussier's practice can be reached at (661) 260-3021. It can also be contacted online via the website lussiermd.com, towncentersurgeryweightloss.com, or http://www.facebook.com/lussiermd.
###