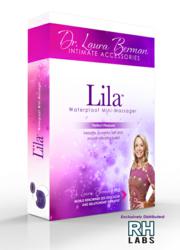 There's nobody else in the world with [Dr. Berman's] reputation or her expertise, so her support gives these products a huge competitive edge
Atlanta, GA (PRWEB) July 11, 2012
RH Laboratories and California Exotic Novelties (CEN) have announced a partnership that will bring select products from Dr. Laura Berman's line of personal massagers to retailers in the food, drug, and mass merchandiser channels for the family planning set.
Dr. Laura Berman is a world-renowned sex and relationship expert. She's published several best-selling books, and has appeared on many network shows including The O'Reilly Factor, The Talk, and The Dr. Oz Show. Her advice has been featured in The New York Times, USA Today, and nearly every women's magazine. Berman also has her own show, In The Bedroom, on the Oprah Winfrey Network.
Dr. Berman collaborated with the CEN team to design and develop every product in her line, drawing on her vast knowledge and experience with real-life clients. RH Labs will penetrate the market with three of Berman's best-selling products. The products will be sold in retailer's family planning section, alongside condoms and lubricants.
"Dr. Berman's line is unique in that it's the first publicly endorsed line of personal massagers," says Joshua Maurice, President of RH Labs. "There's nobody else in the world with her reputation or her expertise, so her support gives these products a huge competitive edge over other brands in the marketplace."
The products are expected to hit shelves beginning in the third quarter of this year.
About RH Laboratories
RH Laboratories manufactures RockHard Weekend, an all-natural male sexual performance enhancer as well as Pandora, an all-natural sexual enhancer for women. RH Laboratories is constantly using innovative techniques to promote their products not only as supplements but also as a lifestyle. In addition to the products RH Labs manufactures, they are the exclusive distributor of Forgiven, the world's first alcohol metabolizer.