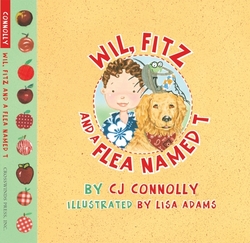 In a down economy, it really means a lot to all of us to support the launch of this book series
Mystic, CT (PRWEB) October 29, 2009
Stories are the timeless way to pass the lessons of life from one generation to the next. Telling these stories is the focus of a new whimsical series of rhyming books authored by CJ Connolly and illustrated by Lisa Adams, both of Mystic, CT. Focused on the underserved 3-8 year old children's market, the new series debuted in mid-October with the release of the first title, Wil, Fitz and a Flea Named T published by Crosswinds Press. Four additional titles are in production, including The Boomerang and The Bad Enchilada, and will be released within the next four to six months.
"When I was diagnosed with a terminal disease, scleroderma, it put my life in perspective. If I wanted to share all the stories and lessons I had learned from my relatives, friends and life itself with my six grandchildren, I would have to do so in print and as soon as possible," noted CJ Connolly. "I also knew that rhyming books hold a special place in children's literature, and rhyming is something that has always come naturally to me."
Each book in the series contains its own unique moral. In Wil, Fitz and a Flea Named T, Wil, one of the two prime characters, discovers that achieving anything of value requires effort…it is never, ever free. This lesson is taught to Wil by a wise old flea named "T" who serves as a modern day Jiminy Cricket. Forthcoming books, such as the soon to be released The Boomerang, feature members of T's extended family who add humor to the stories and help bring the lessons to life. They are written in a style similar to Dr. Seuss and hope to compete with Dr. Seuss and Mouse Cookies in their key markets.
Jacquelyn Miller of the Reach Out and Read National Center notes, "Wil, Fitz and a Flea Named T is both educational and charming…(it) will be a valuable resource for parents and childcare providers who wish to teach children about the value of trying even when mistakes are made." Ms. Miller has added the book to several of the lists of recommended books she distributes to parents and medical providers.
The publisher of the series, Crosswinds Press, is a start-up boutique publishing firm that emphasizes rhyming children's books. Using what is called a "virtual" structure, the Press contracts with a local designer, Trish LaPointe LaPointe Design website and a local printer, the Racine Company to bring the books to fruition. It is a uniquely Connecticut team, or partners in rhyme, that is knitting together four small Connecticut businesses to have one big impact.
"In a down economy, it really means a lot to all of us to support the launch of this book series," notes George Racine of The Racine Company, who prints the books and all related printed matter in his Brooklyn, CT plant. "It is actually fun, not work. We are all proud of the high quality product we've produced."
CJ Connolly has authored numerous books and articles in the professional press under the moniker CJ McNair. An expert in cost management and control systems, she currently is a professor at the US Coast Guard Academy in New London, CT. Lisa Adams is a well-known illustrator of children's books. She designed the logo for the Baby Gap stores and has recently released a new book The Twelve Days of Christmas in New York. Other work completed by Lisa can be viewed at Lisa Adams Art website.
For further information or to purchase books from the series, contact Crosswinds Press at Crosswinds Press website , by phone at 860-245-0245 or by fax at 860-245-0246.
###