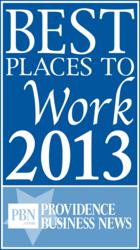 Providence, R.I. (PRWEB) May 23, 2013
The Rhode Island-based Personal Injury and Social Security Disability law firm, Marasco & Nesselbush, is humbled and pleased to be recognized as one of the 2013 Best Places to Work in Rhode Island. The award is given annually by the Providence Business News (PBN) to companies that create an outstanding environment for their employees, based on the opinions and comments of those employees.
This statewide survey and awards program is designed to identify, recognize and honor the best places to work in Rhode Island. Marasco & Nesselbush joins 49 other companies throughout Rhode Island and Bristol County, Massachusetts to comprise PBN's 2013 Best Places to Work in Rhode Island list.
To be considered for this prestigious accolade, Marasco & Nesselbush fulfilled PBN's strict standards regarding favorable employee and management surveys. Among PBN's evaluation criteria were workplace philosophy, culture, diversity, innovation and efficiency. The combined scores determined the top company rankings.
"Joe and I set out 14 years ago to establish a truly top-rate law firm, based on old fashioned values, like hard work and honesty, peppered by cutting edge thinking and technology," said Partner Donna Nesselbush.
Marasco & Nesselbush is a medical-legal law firm that handles personal injury, Social Security disability, and medical negligence cases throughout Rhode Island, Massachusetts and Connecticut. Since 1999, Marasco & Nesselbush has helped thousands of disabled and injured individuals throughout New England. Blessed with success, their growth has been fueled by referrals from experienced medical professionals, fellow attorneys and satisfied clients – three groups of people who should know what's best for their clients, patients, and friends. Our mission has been the same for over 14 years:
To provide exceptional client service and to obtain extraordinary legal results to improve the lives of our clients and staff, and to serve our community.
"We have always sought to treat our employees and clients as if they were members of our own family. We are so humbled and grateful by the way we've grown throughout the years, and honored to know that our employees and managers think so highly of our firm," said partner Joe Marasco.