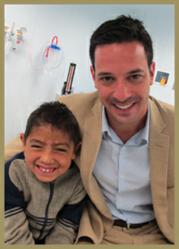 Dr. Rian Maercks did a wonderful job with my child's cleft palate!
Miami, FL (PRWEB) May 11, 2012
Travelling halfway around the world, Dr. Rian Maercks spoke to renowned plastic surgeons and craniofacial surgeons who gathered from around the world for the International Cleft Lip and Palate Foundation's 7th Biennial World Cleft Congress, held in the Seychelles. Mr. Maercks shared his expertise in structural fat grafting and advanced minimally-invasive histiocentric craniofacial techniques with leading surgeons gathered from across the globe. Speaking to such a distinguished group as an invited speaker is a great honor for Dr. Maercks, regarded as one of the most-distinguished Miami cosmetic surgeons.
Dr. Maercks, a leading provider of many cosmetic surgery procedures in South Florida, including breast augmentation Miami procedures, shared his experience and insight about treating patients with cleft lips and cleft palates and helping them lead normal lives. Dr. Maercks joined speakers and presenters from many countries, including Japan, India, Australia, the United States, Indonesia, South Africa and more.
The International Cleft lip and Palate Foundation (ICPF) is a multi-disciplinary foundation consisting of leading medical professionals from around the world. It aims to improve care and treatment for patients with cleft lips and palates worldwide. Founded in 1997, the organization spreads awareness and improves treatment for the condition by facilitating the sharing of information across continents, volunteer work, charity work and fund-raising.