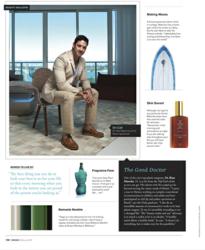 Thank you very much Dr. Maercks! You did a great job for me!
Miami, FL (PRWEB) April 23, 2012
Continuing to lead the way with cutting-edge treatments and techniques, Dr. Rian Maercks, one of the most-respected Miami cosmetic surgeons, offers a new treatment, MicroLaserPeel, to help his patients achieve a smoother and more youthful appearance on various areas of the body. Also known as laser skin resurfacing, this relatively quick and pain-free procedure utilizes a special laser to precisely target areas of damaged skin. The laser removes a thin layer of damaged skin on the surface. Dr. Maercks uses MicroLaserPeel to treat mild wrinkles, scars, keratosis, sun damage and pigment irregularities. Following the removal of this thin layer, new skin cells grow and resurface the treated area, producing healthier-looking skin with fewer wrinkles and more evenness in color.
The procedure typically last 15 to 30 minutes and causes little or no pain. Dr. Maercks, a leading provider of Miami breast augmentation procedures, positions the laser above the skin, and holds it in place as the computer-guided scanner moves the laser beam around the area being treated. The size of the treatment area determines the length of the procedure. Because the laser does not penetrate deeply into the skin, it causes minimal pain, and most patients can tolerate the procedure with anesthetic.
Dr. Maercks has become one of the most-esteemed plastic surgeons in Miami because of his attention to detail, innovative approach to beauty and cutting-edge procedures, treatments and products. Contact his office today to learn how he can help you improve your appearance and your self-esteem.