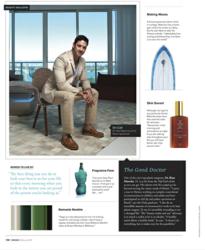 Dr. Maercks made me look and feel younger!
Miami, FL (PRWEB) April 26, 2012
As people age, many have to deal with excess skin in different areas of the body. Dr. Rian Maercks, one of the most respected and sought-after Miami cosmetic surgeons, now offers patients a non-invasive method to tighten the skin in different trouble spots of the body, including the neck, producing a more youthful appearance. Earlier this month, Dr. Maercks was featured on Univision's nationally-carried show "Primer Impacto," demonstrating this relatively new technique to TV audiences nationwide.
The SkinTyte procedure that Dr. Maercks demonstrated on the show used pulsed light technology to deeply heat dermal collagen in the skin, promoting the partial denaturation and contraction of the collagen. The procedure's heat initiates the body's natural healing process, creating a renewed collagen foundation that leads to increased skin firmness.
Dr. Maercks, an early adopter of many technologies and an innovator of plastic surgery techniques, has earned a great reputation for the quality of his results and his innovative approach to cosmetic surgery. Dr. Maercks offers patients across South Florida the latest and best in products and services to help male and female patients look and feel younger, more beautiful and more confident. Dr. Maercks has innovated cutting-edge techniques for facelifts and breast augmentation Miami procedures, producing results that appear more natural and less obvious.