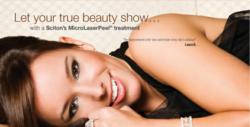 Dr. Maercks's laser treatment really works! I look and feel more beautiful!
Miami, FL (PRWEB) July 27, 2012
Smooth, healthy, radiant skin, particularly on the face and neck, can help people look younger and healthier. Dr. Rian Maercks, one of the top Miami cosmetic surgeons, now offers his patients an outpatient procedure, called MicroLaserPeel, which removes damaged skin and leaves patients' skin looking healthier, often with reduced wrinkles and improved color evenness.
The quick procedure, which Dr. Maercks performs in his Miami Beach office, can be used to treat a number of skin conditions. The procedure typically takes 15 to 30 minutes. Dr. Maercks recommends the procedure for pigment irregularities, keratosis, sun damage, i.e. freckles, mild wrinkles and scars. In the relatively painless procedure, Dr. Maercks uses a laser to precisely vaporize a very thin layer of skin, removing old, damaged tissue. Fresh skin cells will then grow in the treated area and resurface the area as the skin heals. Because the laser does not penetrate deep into the skin, the procedure causes little pain, and most patients can tolerate the procedure without anesthetic. For deeper treatments, Dr. Maercks will typically use a topical numbing cream.
Dr. Maercks performs a number of advanced and intricate procedures for both male and female patients in Miami and across South Florida. His unique breast enhancement technique, cold subfascial breast augmentation, has made him a preferred choice for women seeking breast augmentation in Miami. Dr. Maercks also performs innovative liposuction in Miami procedures and Miami facelifts procedures.