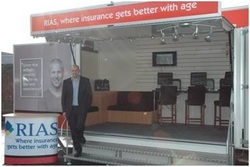 We're always looking for new ways to engage with our customers and the diverse over 50s market, and our 2011 Events Programme with our unique 'insurance hub' is designed to do just that.
(PRWeb UK) March 24, 2011
Over 50s insurance provider RIAS has launched its 2011 Events Programme, complete with the brand new addition of an innovative one-stop 'insurance hub', which offers customers the chance to have a chat with one of the RIAS team, obtain an insurance quote or buy a new policy, as well as giving RIAS feedback and insight into the lives of the over 50s in the 'diary room'.
The 2011 RIAS Events Programme sees the team attending a number of consumer shows and events up and down the country, building on the hugely successful programme the specialist insurance provider enjoyed last year. Not only did the 2010 programme enhance the brand's awareness amongst its over 50s target market, it also provided valuable customer contact and considerable new business policy sales.
The 'diary room', part of the RIAS 'insurance hub', is particularly innovative, as it allows over 50s consumers the opportunity to give their opinion on a variety of topics, as well as provide key lifestyle, interests and brand insights.
The RIAS 'insurance hub' will travel over 4,500 miles this year, visiting key events such as The Edible Garden Show in Warwickshire (March), BBC Gardeners' World Live in Birmingham (June), and The Retirement Show in Glasgow (November).
The RIAS 'insurance hub' will also be used to support the brand's ambitious recruitment plans to grow its workforce by 10% in 2011, by attending a number of recruitment events and shopping areas in and around the Bournemouth area.
Dave Jarrett, Events Programme Manager at RIAS commented: "We're always looking for new ways to engage with our customers and the diverse over 50s market, and our 2011 Events Programme with our unique 'insurance hub' is designed to do just that. New and existing RIAS customers can enjoy a chat, get a quote or even buy an insurance policy that meets their needs right then and there.
Janet Connor, Managing Director at RIAS said: "With over a million customers already, we understand that there are a million reasons why people choose RIAS to protect and safeguard the things that matter to them. Our Events Programme gives us an ideal opportunity to meet and discuss with consumers, face to face, their insurance needs, but also what's important to them. Their 'diary room' feedback will help us to further understand their needs and ensure we tailor our products and services to enable RIAS to become the natural and trusted choice in the over 50s market."
For more information about the 2011 RIAS Events Programme, as well as its full range of products, visit http://www.rias.co.uk/media_centre/exhibitions/
About RIAS:
RIAS was established in 1992 and is a specialist award-winning provider of insurance products for the over 50s age group.
Part of Ageas (Insurance UK) Limited, RIAS has nearly a million motor, home and travel insurance customers and employs over 1,100 people across two UK sites. RIAS negotiates with a panel of insurers to secure competitive, value for money products.
Ageas (formerly Fortis UK) is a leading provider of award-winning Personal, Commercial and Protection insurance solutions in the UK. Ageas UK distributes both its non-life and life products through a range of channels including brokers, IFAs, intermediaries, affinity partners and the Internet, as well as through its retail strategy via its wholly or partially-owned companies (RIAS, Ageas Insurance Solutions, Kwik-Fit Insurance Services, Text2Insure and InsureTech Systems).
Insuring in the region of 7.6 million customers and working with a range of partners, Ageas is recognised for delivering consistent and high-quality customer experiences. It employs almost 4,000 people with a head office based in Eastleigh and others based in Belfast, Bournemouth, Gloucester, Haywards Heath, London, Glasgow, Birmingham, Redditch, Reigate and Stoke-on-Trent.
###