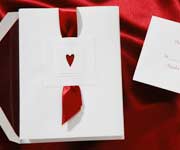 While the motifs of the wedding cards range from photos of the couple to traditional wedding designs, many of the wedding invitations can be made more elegant by adding ribbons and bows
Oak Hill, VA (PRWEB) February 15, 2012
With the recent increased popularity of ribbons and bows, Design Crafters has added a whole new category of wedding invitations that include ribbons and bows.
Beautifulweddinginvitations.com is a website that specializes in wedding invitation cards which can be ordered online. They offer a wide variety of choices when it comes to wedding cards, both modern and traditional. The wedding invitations can be previewed online and customized as per the choice and taste of the customers. The young couple can go through every design and choose their own invitation, which they can then proceed to give a unique makeover through customization. Debby Sibert, the owner of Design Crafters says that, "While the motifs of the wedding cards range from photos of the couple to traditional wedding designs, many of the wedding invitations can be made more elegant by adding ribbons and bows."
Wedding invitation cards can be made to look exquisite with satin or chiffon ribbons wrapped around them. While the ribbons and bows can be previewed online, they can be customized as well, by choosing the color and the material as per the individual taste. There are various sections of wedding cards which will accommodate ribbons. There are different colors to choose from as well. The customer can also match or co-ordinate the text colors to go with the color of the ribbons or bows. There are cards which can be customized with wordings to go inside the wedding invitation cards, and cards which can go through die cast to be tied in an elegant manner.
All the wedding invitation cards can be customized as regards to fonts, colors and styles. Using bows and/or ribbons, can take even the most traditional design and transform it to be very contemporary. The text can be customized as well, with the name of the couple embossed or printed at the top of the cards. The bows and the ribbons are included in the total ensemble of the cards.
The wedding invitation cards at http://www.beautifulweddinginvitations.com can be previewed and proofed as many times as required before the final order is placed. The customer can go on experimenting with the look of the wedding invitation cards till they are satisfied. The company usually ships the order within 2 to 3 business days. Contact information (toll free phone number or email address) is readily available for any questions. Design Crafters does not charge a customer's credit card until they are sure that the customer is fully satisfied. In case the customer is not satisfied, they offer to take back the order at their own cost.
Design Crafters has been serving the online community since 2004 as "Beautiful Wedding Invitations." They are known internationally for their expertise in wedding invitation etiquette. For a free wedding planner sign up here: http://www.beautifulweddinginvitations.com/free-stuff.php.
# # #