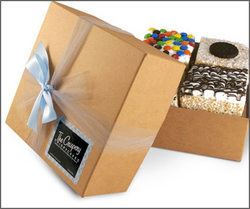 They really are a wonderful gift to give because they are so delightfully different
Roslyn, NY (PRWEB) December 3, 2008
Looking for a unique holiday gift idea that will please even the most discriminating sweet tooth? Discover the scrumptious treat that Rachel Ray and other gourmands across the country have been raving about - crispycakes from The Crispery. The Ultimate in Rice Krispie Treats.
Vicki Mate, founder of The Crispery is the chief creator of these addictive confections that are not your mother's (or even grandmother's) rice crispy treats - with delectable variations on a classic dessert that feature fifteen different flavor sensations including rich chocolate with a raspberry jelly, silky caramel, peanut butter fluff, delightful chocolate cookie crunch and even flaky white coconut. Vicki started the company in 1995 out of her house on Long Island as a young mom with a flair for business and a talent for cooking.
"I've had an obsession for this extraordinary Rice Krispie Treat ever since I was a kid," explains Vicki. Since that auspicious beginning, Vicki's generously sized, light as a feather crispy treats resplendent with angelically fluffy marshmallow and 'to-die for' flavor sensations have been flying off the shelves in upscale gourmet shops such as Kitchen Kabaret on Long Island; Dylan's Candy Bar in New York City, Long Island, Houston and Florida; Goddess and Grocer in Chicago; Carmine's in Palm Beach and retailers such as Bloomingdales in Orlando.
No longer a home-based business, The Crispery is celebrating its 12th year and has relocated to a new location in Roslyn, New York. Vicki has also expanded the business outside of the wholesale world and now offers her 'crème de la crème' crispycakes online at http://www.thecrispery.com . Just in time for the holiday season, devoted fans from all over the U.S. are ordering her delectable treats packaged elegantly in craftpaper boxes and adorned with a signature blue ribbon. Indeed, they make the perfect gift of 'comfort and joy' for important clients, hard-to-please family and cherished friends who deserve the best.
"They really are a wonderful gift to give because they are so delightfully different," says Vicki. The gooey sweetness of the marshmallow and the delectable crunch are perfect all on their own - but I took these crispy bars to another dimension and well beyond! They really are the "crème de la crème of marshmallow treats."
Corporate Gift Baskets from The Crispery make a bold holiday statement to clients and co-workers. Because of the gourmet taste of each Crispy Bar your gift recipients will feel appreciated while keeping well within your holiday budget. The Crispery has a reputation of getting businesses noticed at holiday time and throughout the year. To assure your name is being mentioned in every client's break room and Christmas Party send a stunning Sampler Gift Box.
The Crispery features a spectacular line of gift items, including a new creamy hot cocoa to accompany its outstanding variety of crispy bars available in sampler gift boxes of four, eight and 16 treats. Every generously sized, meticulously cut bar is handmade fresh daily and can be customized for all occasions from baby showers to weddings and seasonal holidays. Order these supreme Rice Krispie Treats online today.
###