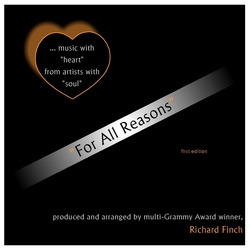 Shake Shake Shake (Shake Your Booty)
Las Vegas, NV (PRWEB) December 18, 2008
Legendary Producer/Arranger Richard Finch proves that he still has the magic touch for creating hit records. As one half of the multi-Grammy Award winning songwriting team from "KC and the Sunshine Band," which gave the world a nonstop stream of danceable hits in the 70's, including, "Boogie Shoes," "Get Down Tonight" and "Shake Shake Shake (Shake Your Booty)," Finch is making his professional comeback to the music industry and seizing the moment to bring fun and 'grooveablity' back to the masses while helping some very worthy causes in the process. "For All Reasons" - an 11-song compilation CD features some of Finch's new artist discoveries, two of his own compositions (which he performs) and includes solo efforts from the members of The Memphis Rascals, Top 35 contestants from the 2007 summer installment of NBC Television's hit reality series, "America's Got Talent."
Touched by the devastation of Hurricane Ike and seeing the remnants of its effect in his own community of Newark, Ohio, Finch made a decision to incorporate charitable giving and fund raising projects into the framework of his new company, Richard Finch Productions, Inc., which will be headquartered in Las Vegas, NV. "For All Reasons" is the first release from the company's recording studio, "The Production Kitchen."
"Sadly, our country and the rest of the world is going through some hard times right now," Finch comments, "but we've been in this situation before. There's an entire generation that knows nothing about the economic frustrations OR the gas rationing we had in the 70's. I'd like to think that the music we created during that decade put a smile on people's faces and helped them through those difficult times. Hopefully, the amazing music we've created for the "For All Reasons" disk will have that same effect on people, while helping these wonderful organizations at the same time."
A portion of the proceeds from every "For All Reasons" CD and download will benefit one of six different organizations as decided by the buyer: American Red Cross (Licking County, Ohio), Tony LaRussa's Animal Rescue Foundation (Walnut Creek, CA), Campaign for Care (Los Angeles, CA), Kid One Transport (Birmingham, AL), The Denver Foundation (Princeton, WV) and The Rock and Roll Hall of Fame and Museum (Cleveland, OH). Those who purchase the physical CD will designate their contribution to one of these six charities via a voting postcard included with their purchase. The money raised from the album download will be divided equally among the six organizations.
Dreama Denver, CEO of The Denver Foundation, which she co-founded with her late husband, actor Bob Denver ("Gilligan" from "Gilligan's Island") states, "I'm sure I speak for all of the organizations when I say it's an honor to be included in this unique fundraising effort. The music, culture and excitement that Rick played a huge part in creating 30 years ago remains timeless and I know we'd all like to see the same longevity and success for the 'For All Reasons' CD."
About Richard Finch:
Richard Finch, legendary co-founder/bassist/song arranger/composer/producer and engineer of the 1970's mega-group "KC & the Sunshine Band" is renowned for developing a unique fusion of R&B, Funky Soul and Country, meshed with a Latin/Caribbean groove, which catapulted the band to worldwide fame. Through his creative vision, consumer insight and engineering expertise, Finch has given the world a timeless catalog of hits and a musical legacy seldom matched by few. The music co-created, produced and arranged by Finch is a staple in Music Americana, reflected in sales of over 100 million recordings worldwide, nine Grammy nominations, three Grammy Awards, 14 BMI Songwriter/Arranger Awards, an American Music Award and a star on the Hollywood Walk of Fame. KC & The Sunshine Band, as a result of Finch's catchy music compositions and precise hard-hitting production quality, is considered one of the most successful music groups of all time and is credited with changing the sound of 20th Century pop music. Finch's bass lines and drum grooves are known worldwide as an industry standard and staple in the Hip Hop genre, sampled by numerous artists including 50 Cent, Snoop Dogg, Ultra Nate and Beyoncé.
###