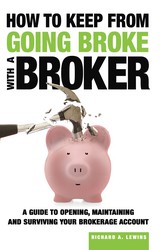 Dallas, TX (Vocus) May 5, 2010
Bascom Hill Publishing Group has released How to Keep from Going Broke with a Broker, the first comprehensive guide to preventing broker misconduct from investors' rights attorney Richard Lewins. Drawing on his over twenty five years of combined legal and brokerage experience, Lewins lays out exactly what consumers need to know when choosing and maintaining a brokerage account, and what legal recourse they have if they feel they have been a victim of broker misconduct.
How to Keep from Going Broker with a Broker maintains a focus on prevention, outlining a series of steps consumers can take to protect themselves and their money when choosing a broker. By presenting a clear set of expectations every investor should have for their broker, How to Keep from Going Broke with a Broker clarifies what standard brokerage practices are and what practices should be avoided. Though the book does include a chapter on resources available to investors who do feel they are the victims of broker misconduct, it is primarily an educational tool, aiming to help investors choose the right broker from the start and avoid legal action later.
Richard Lewins has been named a Texas Super Lawyer, a group of attorneys representing the top 5% of lawyers in Texas as selected by peer review. Lewins also serves on the Board of Directors for the Public Investors Arbitration Bar Association, the largest U.S. organization of lawyers who represent investors in arbitrations against the brokerage industry.
For information, please call or email publicist Jessie King at 612-455-2293 x209, or visit LewinsLaw.com.
# # #